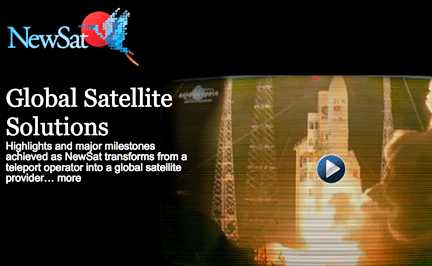 [SatNews] NewSat Limited is proudly supporting the future space workforce in Australia by sponsoring the Southern Hemisphere Summer Space Program (SHSSP).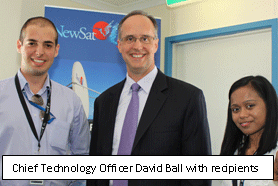 Held annually, the SHSSP is run by the University of South Australia in partnership with the International Space University (ISU). Australia's only space program of its kind, SHSSP is a unique, five week live-in experience which focuses on a variety of space topics including policy and regulatory issues, systems engineering and technology, as well as space business and management.

Adelia and Eren, along with the other participants, have been attending lectures and workshops and visiting local sites of interest in Adelaide. On Monday 20th January, the lectures featured satellite communications and Earth stations followed by a commercial satellites workshop, involving NewSat Chief Technology Officer, David Ball. Students and program coordinators also attended a tour of NewSat's Adelaide teleport, hosted by VP Engineering and Operations, Len McGoldrick, Spacecraft Systems Engineer, Mark Ramsey, SA Operations Manager, Bruce Mayberry and Implementation Engineer, Mark Wallace.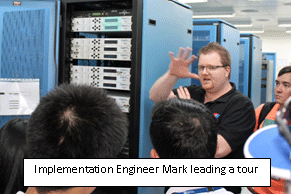 Scholarship winners Adelia and Eren were grateful for the support from NewSat and have been finding the course beneficial to their career goals. Fascinated by all aspects of space, 26 year-old Adelia said "the best part of the experience has been bringing together different disciplines, and seeing how they are integrated to create a space mission", while Eren, 22, said "programs like SHSSP are important for Australia, as they put the country on the map in the world of space and provides a place for students to network and develop new skills."

This is the fourth time this international space education program has been held in Adelaide.

Proudly supporting the future space workforce, Adrian Ballintine, NewSat Founder and CEO said, "We are excited to support the SHSSP program again in 2014. This is a fantastic platform for young professionals to launch their space careers, applying their knowledge in a practical sense and a great opportunity to share what NewSat are doing in the industry, particularly featuring our world-renowned Adelaide teleport facility. We are proud to support Adelia and Eren, and look forward to watching them progress in the space industry."

For more information, please visit http://www.newsat.com