[SatNews] How does this technology play an integral role in saving lives and cutting costs?

AUVSI's Unmanned Systems 2014 will take place 12-15 May, at the Orange County Convention Center in Orlando, Florida.
Here you can immerse yourself in unmanned systems and robotics technology!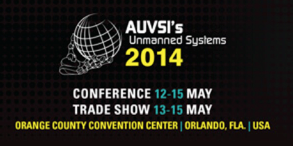 Here's a small sample of what this year's conference has to offer:
600 exhibitors showcasing the world's largest display of unmanned systems and robotics. Check out the exhibitor list.
55 hours of unmanned systems programming discussing key business questions, issues and technical advancements. See the full program.
120 speakers featuring keynote addresses from Dr. Vijay Kumar, University of Pennsylvania, and Mike Walsh, best-selling author of FUTURETAINMENT and CEO of Tomorrow, an innovation research lab.
8,000 industry professionals from more than 55 countries
4 days of live indoor and outdoor unmanned systems demonstrations starting with the Unmanned Systems Demonstration hosted by Space Florida at Kennedy Space Center on Sunday, 11 May and continuing with the small air and ground demonstrations on the show floor Tuesday through Thursday
8 hours of formal networking time and ample informal opportunities to make lasting connections. Plan your experience now, click to view the schedule at a glance.
Whether you are already active in unmanned systems or curious about how this technology can play an integral role in saving lives and cutting costs, you will not find a more comprehensive, thought-provoking and valuable conference in the industry.