[SatNews] Thaicom has announced that the NBN Co has selected its wholly owned subsidiary, IPSTAR Australia (IPA), for a new initiative to boost the number of broadband connections for Australians who cannot access an existing commercial broadband service.
Under the NBN Co Satellite Support (NSS) Scheme, IPA is appointed an official wholesaler and will deliver the scheme together with participating Internet Service Providers (ISPs) in Australia. According to NBN Co, the NSS Scheme will connect as many as 9,000 additional premises in remote and regional mainland Australia and Tasmania, until NBN Co's Long Term Satellite Service (LTSS) is launched in late 2015. The NSS is exclusively available for users who are unable to access a commercial broadband service.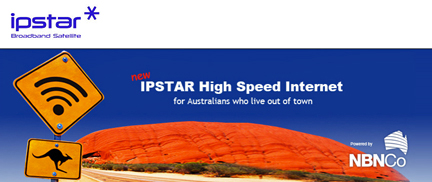 Premises eligible for the NSS must be within line of sight of the IPSTAR broadband satellite and have never been subscribed to a service via the Australian Broadband Guarantee (ABG) or the Interim Satellite Service (ISS). The NSS Scheme is designed to deliver wholesale speeds of up to 4Mbps download and 1Mbps upload. IPSTAR will provide Internet Service Providers with a minimum download performance equivalent to 2.6Mbps for 20.4 hours per day.
NBN Co Chief Customer Officer, John Simon, said, "Bringing broadband to the most remote communities across Australia is one of NBN Co's highest priorities. It gives residents access to e-health, distance education and Internet banking, while businesses can benefit from increased productivity, reduced costs and access to new markets. With high demand for broadband in regional areas, this initiative is essential to providing a reliable service to families and businesses that cannot access a commercial broadband service today."
The Thaicom infosite may be reached at http://www.thaicom.net/
For more information regarding IPSTAR Australia, please visit http://www.ipstar.com/au_microsite/IPA_AUP.html
To learn more about NBN Co, head over to http://www.nbnco.com.au/connect-home-or-business/information-for-home/satellite.html