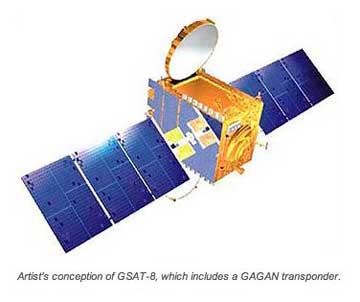 [SatNews] India's GSAT-8 multi-mission satellite is ready for launch.
The GSAT-8 multi-mission satellite has been integrated on the Ariane 5 launcher for Arianespace's third flight of 2011. This setup moves the mission campaign into its final preparations for a May 19 liftoff from the Spaceport in French Guiana.
GSAT-8 is now positioned as the
lower spacecraft in Ariane 5's dual-payload "stack," clearing the way for installation of the ST-2 satellite as the upper passenger
.
Designed, assembled and integrated by the Indian Space Research Organization (ISRO) in Bangalore using an I-3K platform, GSAT-8 weighs approximately 3,100 kg. for launch, and carries 24 transponders to augment India's
i Ku-band relay capabilities in direct television broadcasting.  It also is configured with the two-channel GAGAN (GPS and GEO augmented navigation) system for aircraft navigation assistance over Indian airspace and in adjoining areas.
The ST-2 satellite was
built by Japan's Mitsubishi Electric Company
using a DS2000 platform, and will have an estimated liftoff mass of 5,090 kg. Equipped with Ku-band and C-band transponders, ST-2 will provide IP-based fixed and mobile, voice and data transmission satellite services to businesses - especially direct broadcast TV operators and maritime companies in Asia and the Middle East.  It will be operated by ST-2 Satellite Ventures Pte Ltd., a joint venture of Singapore Telecommunications Limited (SingTel) and Chunghwa Telecom Company Limited (Chunghwa).
Follow Arianespace's launch activity at.