[SatNews] Communications & Power Industries (CPI) Satcom Division has been selected to supply high power uplink amplifiers (HPAs) to support the Brazilian government's new Geostationary Defense and Strategic Communications Satellite (SGDC).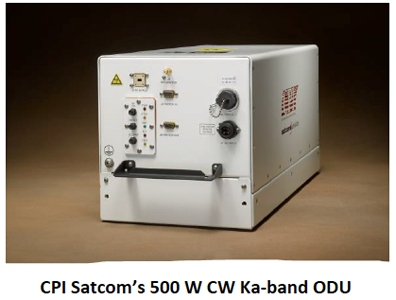 CPI will provide 500 W continuous wave (CW) Ka-band TWTAs, which will be used for critical telemetry, tracking and control. The SGDC satellite will be dedicated to strategic communications for the Brazilian Ministry of Defense, and broadband services for the Ministry of Telecommunications. The launching and operation of the satellite will be performed by Visiona Tecnologia Espacial S.A, a joint venture between Telebras Telecomunicacoes Brasileiras S.A. and Embraer Defense and Security.
"CPI is pleased to be involved in such an important Ka-band program," said Andy Tafler, President of CPI Satcom Division. "We have spent considerable time and investment to become a leading supplier of amplifiers operating in this frequency range, and are happy to see our efforts recognized in the marketplace."
CPI has shipped more than 2,000 Ka-band high power amplifiers to customers around the world, and is also a leading supplier of HPAs for uplinks in all standard operating frequency bands. Most of the company's products are ANATEL certified for import to Brazil.
The CPI Satcom Division infosite is located at http://www.cpii.com