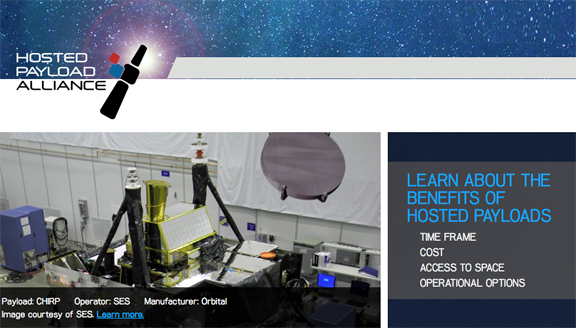 [SatNews] The important Hosted Payload Alliance has elected new officers for 2015.
HPA Chair: Nicole Robinson
Nicole Robinson is the Corporate Vice President for Communications and Government Affairs, SES Government Solutions (SES GS). She said, of her appointment, "It is an unparalleled honor to serve as the Chair of the Hosted Payload Alliance. Since its inception, the HPA boasts many accomplishments working with government to further the development of a new hosted payload contracting vehicle, lend commercial voice to spectrum and Defense policy, as well as incorporate industry views into the National Space Transportation Policy."
Nicole Robinson currently serves as the Corporate Vice President of Communications and Government Affairs for SES Government Solutions. In this position, she provides the strategic direction for all external marketing and communications initiatives and is responsible for the Government Affairs Strategy in the advocacy of innovative ways to utilize commercial satellites to deliver time and cost effective solutions to the government. In 2013 and 2014, Ms. Robinson served as the Vice Chair of the Hosted Payload Alliance as well on the Board of the Washington Space Business Roundtable (WSBR). As additional recognition of her advocacy and advancements in the government affairs arena, she was the recipient of a 2012 Future Leaders Award by the Society of Satellite Professionals International.
Prior to joining SES, Ms. Robinson served as the Strategic Communications Lead at the U.S. Joint Forces Command's Standing Joint Force Headquarters (SJFHQ). Before joining General Dynamics, Ms. Robinson managed the promotional and communications activities in support of the U.S. Army Center of Military History's project, the National Museum of the U.S. Army. Ms. Robinson completed her bachelor's degree in communications at Radford University, earned an MBA from Liberty University, and is a graduate of the Senior Executives in National and International Security Program at Harvard University, Kennedy School of Government.
HPA Vice Chair: Rory Welch
Rory Welch is the Director of Business Development at Intelsat General, where he leads critical customer engagement initiatives and business development strategies. He is responsible for designing and executing complex strategy and capture campaigns aimed at diversifying the company's business by securing revenue in non-core mission areas such as hosted payloads, ground operations, flight operations and orbital serving. Before joining the Intelsat General team, Mr. Welch served as a space operations officer in the U..S Air Force. He has more than 23 years of experience in satellite operations, national ISR systems, space launch, strategic planning and program management.

Mr. Welch has a MA from Air University, a MA from George Washington University and a BS from Worcester Polytechnic Institute.
HPA Treasurer: Al Tadros
Al Tadros is Vice President of DoD and Civil Business at SSL, a full-service provider of communications satellites and space systems. In this role, he is responsible for applying SSL's best value solutions, including hosted payloads, to U.S. Government mission needs. Mr. Tadros also develops and maintains relationships with U.S. Government agencies and manages sales and marketing activities. Mr. Tadros has worked at SSL for more than 24 years in increasingly responsible positions and has most recently helped to draw attention to the value commercial satellite technologies and system solutions bring to government missions. Before being named to his current position, he was the Director of U.S. Government Programs for five years and, prior to that, he was Payload Manager, MTSAT Program. In that role, he was the responsible engineer for integrating the world's most advanced geostationary meteorological imager for the country of Japan.
Mr. Tadros worked for ten years in systems engineering and dynamics and controls analysis engineering before he took on program manager responsibilities. During the course of his career, he worked on 13 missions and launch campaigns, many of which deployed cutting-edge communications and remote sensing systems.
Mr. Tadros holds patents in the field of attitude control systems, and he was responsible for early telerobotics research for the International Space Station. He holds a Bachelor's Degree in aerospace engineering and a Master's Degree in mechanical engineering from Massachusetts Institute of Technology (MIT).
HPA Secretary: Robert B. Clark
Robert Clark is the Hosted Payload Manager for Harris Corporation, where he has worked since 1997 in a broad range of technologies and disciplines. Mr. Clark currently has responsibility to oversee and advise concept development, architecture, design, production and deployment of advanced technology systems for both commercial and government customers, with a focus on the hosted payload market. During his tenure at Harris, Mr. Clark led the successful proposal for the Air Force Space and Missile Center's Hosted Payload Solutions (HoPS) program. In addition, his roles as chief engineer and architect on the Aireon hosted payload and several of its auxiliary components have enabled numerous hosted payloads of several types for Harris Corporation.
Mr. Clark holds both a Bachelor's of Science and a Master's of Science from VA Tech in electrical engineering.
HPA's officers will work to advance the Alliance's mission to promote the benefits of hosted government payloads on commercial satellites. In 2014, HPA coordinated a very successful Congressional Hill Day, speaking to many Congressional members and staffers about the benefits of hosted payloads. Looking ahead to 2015, the Alliance will build on that success with the incoming officers leading the way.
Ms. Robinson added, "In a challenging budgetary environment where commercial organizations must scrutinize spending and costs associated with membership to such organizations, we're proud to reveal all that the Alliance has been able to accomplish. Our ability to maintain and grow membership is a testament to the quality of the organization and our ability to bring together government and industry stakeholders on a critical means of accessing space."
The Board Officers are elected in the fall of each year, with their terms to start the following January.
HPA's Executive Members include: Airbus Group, Arianespace, Boeing, Harris Corporation, Inmarsat, Intelsat General Corporation, Iridium Communications Inc., Lockheed Martin, Northrop Grumman, Raytheon, SES Government Solutions, and Space Systems/Loral.
The Hosted Payload Alliance infosite offers more information at http://hostedpayloadalliance.org/