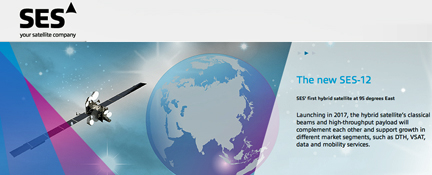 [SatNews] With North American oil and gas production on the rise, global satellite operator SES (NYSE Euronext Paris and Luxembourg Stock Exchange: SESG) has signed a new capacity agreement with Global Data Systems (GDS) to enable Stallion Oilfield Services to connect an increasing number of oil and gas drilling sites across the U.S. and Canada.

Stallion, a leading provider of integrated wellsite services across North America, has doubled its use of SES satellite bandwidth and intensified its need for GDS full-scale teleport and infrastructure solutions to help the oil and gas industry boost operational efficiencies and workforce welfare. By growing its service to 72MHz of Ku-band capacity on SES's AMC-9 satellite, Stallion is enabling oil and gas companies and drilling contractors to remotely monitor drilling operations from a central site. Stallion is also delivering via satellite a wide range of applications, including high-speed broadband, corporate VPN and MPLS solutions, Netflix, and Skype, to enable drilling crews to remain connected with colleagues, friends and family while working in remote wellsite locations across the country and offshore in the Gulf of Mexico.
"Reliable satellite bandwidth plays a critical role in our ability to help oil and gas operators and drilling rig contractors reduce costs and streamline their operations," said Pedro Buhigas, Chief Information Officer for Stallion. "Exploration and production firms are increasingly relying on communications infrastructure to bring real-time information to their central office locations. On the other end of the spectrum, satellite-delivered applications as simple as a phone call and Internet access are ensuring that wellsite crews from the Gulf of Mexico to Alaska remain connected with their family and friends facilitating a higher quality of life while away from home. Being able to provide these services results in added value to our customers and enables them to stay well focused."
"Our partnership with GDS and Stallion represents a real growth story for SES in North America," stated John Matlaga, Vice President of Enterprise and Mobility Services for SES in North America. "This expansion further highlights the high-powered AMC-9 satellite as an ideal option for supporting oil and gas operations across the Gulf of Mexico and throughout the region."
"Stallion is providing comprehensive accommodations support to every phase of North America's remote oil and gas operations—from exploration to production, and GDS is customizing the network solutions needed to meet the daily requirements in the oil and gas market," said Ned Fasullo, Chief Marketing Officer for Global Data Systems.
The SES infosite is located at http://www.ses.com/
Global Data Systems' information may be obtained at http://www.getgds.com/