International Datacasting Corporation (TSX:IDC) has successfully demo'd their SuperFlex Pro Cinema 3D Live Encoder and Decoder product lines, powered with Sensio 3D technology, at the Sat Expo Europe 2009 international conference and exhibition held in Rome from March 19-21, 2009.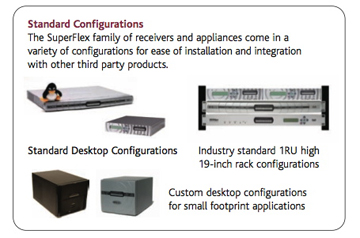 The demos included a simultaneous 3D broadcast of a live jazz performance over the satellite in a digital cinema configuration as well as broadcast and display on a commercially available consumer 3D television, demonstrating the technology for the direct-to-home market. The
SuperFlex Pro Cinema Live Decoder and Encoder
, with
Sensio
® 3D technology inside, supports 2D and 3D live and pre-recorded events which provides movie houses and other venues increased new business opportunities via alternative content programming. The products allow play out of live broadcast and pre-recorded stereoscopic (3D) content, up to 1080p 60fps, using industry standard 2D video distribution infrastructure and is compatible with all types of digital projection systems available on the market.
SENSIO
remains the only corporation in the world to have successfully integrated its live 3D content broadcasting technology throughout a network of movie theaters.
IDC
will be showcasing the IDC Pro Cinema 3D Live Encoder and Decoder products, along with the other components of IDC's end-to-end digital cinema solution and the rest of IDC's broadband satellite solutions for digital radio, high speed data and video such as IPTV, syndicated video at the following trade shows: SAT2009, March 25 to 27 in Washington DC; ShoWest, March 30 to April 02 in Las Vegas and NAB, April 20 to 23 in Las Vegas.