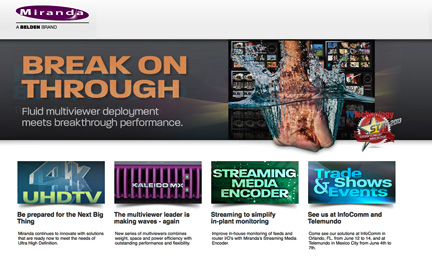 [SatNews] Miranda Technologies, a Belden Brand, will present an educational webinar to discuss findings of a recent survey that will help mobile production professionals better understand how to overcome the specific challenges they face.
The research will be presented by industry researcher Josh Gordon, president of The Josh Gordon Group, and industry expert George Hoover, CTO of NEP. The free webinar, the second in a series hosted by Miranda, will take place on Thursday, January 23 at 11 a.m. EST and will provide valuable insights into, and rank, the technical challenges facing mobile production pros, especially setup time, power and weight limitations. Free registration is available at http://www.miranda.com/prod-spot/2013/29-WEBINAR-TRUCKS/index.html.
There is no shortage of opinion as to which technologies slow down mobile truck setup most. Josh Gordon says, "During initial interviews, many told us camera placement and setup slowed setup the most, others told us it was graphics. When we surveyed an industry-wide sample and ranked 13 different technologies, laying cable/fiber/triax was first, while camera placement and set up came in second."
The study also found anomalies. For example, during mobile production setup, respondents rated the audio side as largely unproblematic, but once the productions had begun, almost 40% of respondents said audio issues in the control room had interfered with a live production.
To ensure the research is presented in a real world context, NEP's George Hoover will offer his insights on the survey's findings. Hoover is one of the most seasoned professionals working in mobile production today and has developed keen insights on the required technologies and the best ways to apply them in a truck environment.
The webinar, "Responding to the Challenges of Live Production," will be presented on Thursday, January 23rd, at 11:00 a.m. EST, 8:00 a.m. PST. Registration is available at this direct infopage link.