Newtec's latest additions to DVB-S2X wideband products for High Throughput Satellite (HTS) and global networks were revealed.
As part of the Newtec Dialog multiservice platform (Release 2.1) the wideband DVB-S2X and scalable Newtec Dialog® XIF Hubs provide high throughput, high density and carrier grade solutions. Each hub model offers flexibility and modularity, providing increased networks and additional services by enabling customers to begin with an initial investment and then extend their platform as needed.
This new extended product portfolio will be available for review for the first time at Satellite 2017, in Washington D.C., at booth 2001 from Monday, March 6 to Thursday, March 9. Later this month, Newtec will exhibit at CABSAT in Dubai at booth B7-20 (Hall 7).
Newtec has also completed its DVB-S2X wideband modem portfolio with the newest MDM2210 and the MDM3310, which join the earlier launched MDM5000 modem.
The Newtec modems provide solutions to customers in vertical market segments such as:
consumer
enterprise
cellular backhaul
government
mobility
Using the wideband DVB-S2X customers can appreciate the efficiencies and throughputs enabled by HTS spot beam satellites.
The Newtec MDM2210 IP Satellite Modem anticipates the consumers future needs of its SME broadband networks and delivers throughputs of over 100 Mbps and is available with an optional Wi-Fi-embedded router.
According to the company the MDM2210 supports up to 500 Mbaud DVB-S2X and offers the most bandwidth capacity of any HTS satellite. The MDM2210 is combined with a portfolio of Ku- and Ka-band outdoor units. These terminals are installed via the Point&Play® smartphone app, provide easy and high accuracy pointing, with no need for additional tools during the installation and terminal commissioning flow.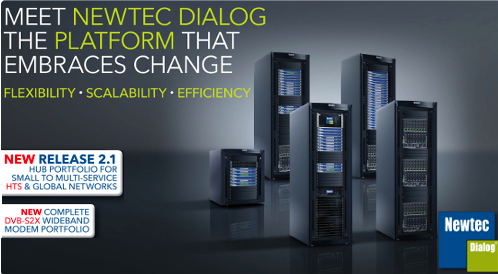 Newtec's CEO Thomas Van den Driessche stated that as the number of HTSs continues to grow, bringing benefits such as lower costs and higher reliability, service providers and operators are looking to take advantage of this through more performant, reliable and cost-effective solutions. He continued to say that it is Newtec's role to offer ground technology which meets these requirements. Their complete HTS product portfolio makes these synergies available, empowering their customers to cost-effectively deliver improved services in any vertical and benefit from the efficiencies and throughputs enabled by HTS spot beam technology.
The Newtec Dialog XIF hub and the DVB-S2X wideband modems are geared towards the multi-service era, enabling customers to combine the most appropriate modems with the most efficient return technologies to address a wide range of applications. The multiservice platform also features Newtec's unique, dynamic Mx-DMA® technology, combining the best of SCPC and MF-TDMA to offer customers on-demand variable bandwidth allocation with enhanced efficiencies. With the Mx-DMA technology, a return rate of up to 75 Mbps for a single terminal can be supported.
Bart Van Poucke, VP Product Management at Newtec commented that they are proud to unveil these new products which represent a huge step forward in responding to the recent surge in technological advancements. With efficiency, scalability and flexibility at their core, both the Newtec modems, Newtec Dialog hubs and global Network Management System (NMS) will help customers make the most of HTS capacity in a flexible, efficient and scalable way.