On January 28, 2017, the latest Hispasat communications satellite was successfully delivered to orbit by an Arianespace Soyuz rocket launched from Europe's Spaceport in Kourou.
RUAG Space made several, key contributions to the success of the mission by supplying products from the firm's locations in Switzerland, Austria and Sweden.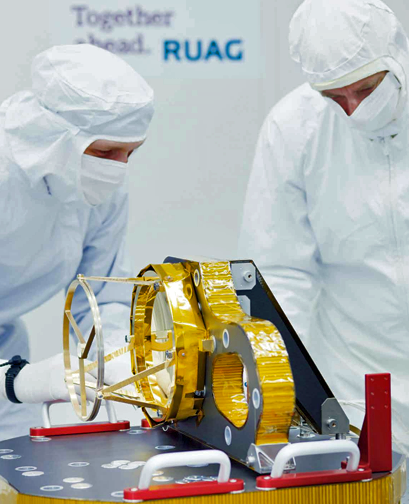 Essential mechanical and electronic components were supplied by RUAG and these elements will operate and control the satellite during its 15 year mission. Among these components are the satellite structure, thermal systems, mechanisms, as well as data management systems.
In addition to the satellite separation system and the satellite's central tube coming from Sweden, RUAG Space — through its Austrian facilities — provided the thermal systems, which protect the satellite from extreme temperatures with multiple-layer insulation blankets and optical solar reflectors.
From Switzerland, RUAG supplied essential mechanisms, such as the Solar Array Drive Mechanisms, which accurately align the solar panels with the sun, and rotary actuators which deploy and point the antennas with a smooth, low-vibration control system eliminating any distortion.
For the platform electronics, RUAG Space Sweden provided a new data management system which forms the digital link between the satellite and ground control.
The payload management unit also includes key components by RUAG Space, including a control module and the power supply unit. For the payload, RUAG supplied antennas as well as frequency converters.
Hispasat H36W-1, a geostationary communication satellite, will provide multimedia services to Europe, the Canary Islands and South America. The development was a public-private partnership between the European Space Agency (ESA), the Spanish satellite operator Hispasat and the German space company OHB System AG.
Hispasat H36W-1 is based on the new, compact SmallGEO satellite platform, which was developed by OHB System AG in the frame of the ESA Advanced Research in Telecommunications Systems program, in collaboration with RUAG Space.
Peter Guggenbach, the CEO of RUAG's Space Division, stated that the firm's significant participation in the Hispasat H36W-1 project underscores the company's determination to play a major long-term role in the commercial market for telecommunication satellites in addition to RUAG's activities in institutional space programs.