[SatNews] ...20 years as a sales executive with some of the industry's most prestigious companies, including Lloyd's of London.
KVH Industries, Inc., (Nasdaq: KVHI) announced Ms. Anneley Pickles has joined the company as Head of Business Development for the Crewtoo social network, the world's largest online network dedicated to seafarers. One of her first priorities is overseeing Crewtoo Jobs, the online maritime jobs board that was launched last month to help match the right companies with the best seafarers.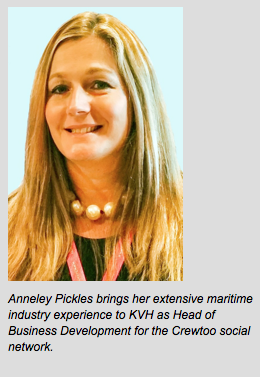 "Anneley is well known and highly regarded in the maritime industry and we are extremely pleased to have her join our efforts at a time when Crewtoo is seeing terrific membership growth," says Mark Woodhead, managing director of KVH Media Group. "With her expertise, we expect to see many initiatives that address mariners' needs whilst continuing to grow Crewtoo." In February, Crewtoo announced it had exceeded 100,000 members, just 16 months after it was created.
Ms. Pickles, who is based in Liverpool, U.K., has worked in the maritime industry for nearly 20 years as a sales executive with some of the industry's most prestigious companies, including Lloyd's of London. She was also director of a leading recruiting company focused on maritime professionals both at sea and onshore. She is the founder of the First Thursday Maritime Networking event in Liverpool, and an active member of the Women's International Shipping and Trading Association.
"The Crewtoo community started with just one seafarer and an email, and now it is the largest online seafarer network," says Ms. Pickles. "My aim is to bring great services to these hard-working and dedicated mariners. I look forward to building strong and long-lasting business relationships for Crewtoo and KVH."
Ms. Pickles holds a Bachelor of Arts degree in Public Administration from Sheffield Hallam University, in South Yorkshire, and an Associate's degree in Business & Finance from Nelson and Colne College, in Lancashire.
In addition to Crewtoo, KVH and its KVH Media Group provide many maritime industry services, including NEWSlink, a daily news and information service with more than 75 publications in 17 languages delivered by email to vessels around the world; and TRAININGlink, which provides training videos for onboard viewing by seafarers, delivered in a range of formats from hard-copy DVDs delivered directly to ship agents throughout the world to fully digital services.
KVH provides maritime broadband connectivity to vessels worldwide through its TracPhone V-IP series terminals and mini-VSAT Broadband network. In addition, KVH is introducing IP-MobileCast, a content delivery service that is designed to enable entertainment and operations content to be delivered via multicasting technology to subscribing vessels, over the top of the mini-VSAT Broadband network.

KVH Industries provides in-motion satellite TV and communications systems, having designed, manufactured, and sold more than 175,000 mobile satellite antennas for applications on vessels, vehicles, and aircraft. KVH's VSAT services provides supplies, news, music, and entertainment content provider to many industries including maritime, retail, and leisure. KVH is based in Middletown, Rhode Island, U.S.A., with facilities in Illinois, Denmark, Norway, the U.K., Singapore, the Philippines, Cyprus, and Japan.