Kratos Defense & Security Solutions, Inc. (www.kratos.com) has signed on Cyprus Telecommunications Authority (Cyta), a major international telecommunications hub in the Eastern Mediterranean, to provide Kratos' End-to-End Network Management Suite of products to support the latter's expanding satellite ground operations.
The network management suite will help Cyta scale its international operations by automating network functions and managing customer services and Service Level Agreements (SLAs) more effectively across hybrid satellite and terrestrial networks. The suite will be deployed at the company's Makarios Teleport Station.
The Makarios Teleport hosts a large number of Earth stations providing links to numerous satellites included in Cyta's extensive telecommunications network that delivers a wide range of international telecommunications products, services and solutions.
The network management upgrade is a key element of Cyta's enhancement program, which includes adding advanced services to support satellite operators in satellite control and monitoring operations.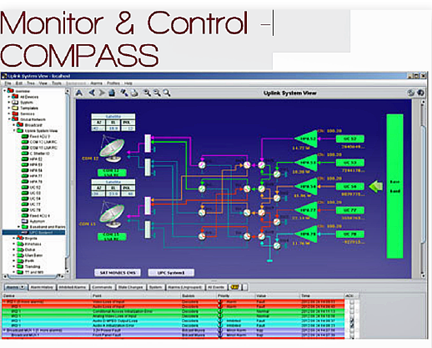 As Bruno Dupas, President of Kratos Integral Systems Europe, explained, "Optimization of network performance and service delivery were two of Cyta's key objectives. The End-to-End Network Management suite configured for Cyta includes Compass® to proactively monitor and manage Cyta's network devices to reduce costly downtime, and, in the event of a device failure, reduce Mean-Time-to-Repair (MTTR) by identifying the root cause of device issues earlier and accelerating the remediation process. In addition, Kratos' NeuralStar® SQM organizes and manages Cyta's services across its international network and helps improve service quality assurance. By bridging the management silos, NeuralStarSQM retrieves both device and service data from monitored systems at the Makarios Teleport and integrates it all into a common platform enabling Cyta to identify, prioritize and recover services quickly and improve service level delivery and maximize SLAs."
Makarios Teleport's operations are already supported by Kratos' Monics® integrated RF Monitoring System, which is connected to more than 60 satellite antennas and provides direct visibility to the satellite carriers transmitted and received at the site. Detailed information on the relevant parameters, such as modulation details of wanted and interfering carriers can be readily extracted.
Together, Compass, NeuralStarSQM, and Monics provide an end to end solution ensuring that Teleport personnel are continuously aware of the status of every device and service Cyta provides and can promptly take the necessary measures to address any situation effectively.
According to Costas Agrotis, Manager of the Cyprus Teleports, "Makarios Teleport along with the other two supplementary teleports continue to expand steadily and new equipment and infrastructure is regularly integrated to the existing facilities.
"Our new Network Management System will help us reduce costs and increase Quality of Service (QoS) by automating manual tasks and expediting recovery from network anomalies. It is a key component of our infrastructure enhancement as well as our continued growth."