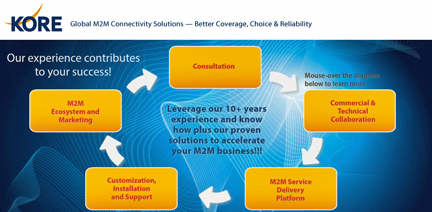 [SatNews] KORE Wireless and satellite partner Iridium will be Silver sponsors at the Asia M2M Business Platform 2014 this November.

Kuala Lumpur, Malaysia will play host to the event, on the 3rd and 4th of November, which will see more than 20 international speakers from the M2M community present at the conference. The conference covers the breadth of the M2M value chain with all key stakeholders across the M2M ecosystem present. This international event will see companies showcase the latest technology, solutions and market ready products.
Vice President and General Manager at KORE Wireless Asia Pacific, Shane Murphy will present a case study on the Satellite and Cellular Applications for M2M. "KORE Wireless has a strong presence in the Asian market, and this type of conference is the best possible platform to highlight and showcase what we can do in the M2M space," he said. "Sponsoring an event like Asia M2M Business Platform, together with other established international brands such as Celcom and Intel is a great opportunity for KORE Wireless to show leading businesses and startups how we can interact in a global capacity."
"Cellular applications in particular continue to rapidly grow in this region and this is an area in which KORE Wireless can provide expertise and global connectivity."
Business Director of Iridium Asia, Alvin Chew, will support the KORE Wireless presentation as the only mobile satellite service company to offer pole-to-pole coverage over the entire globe.
The KORE Wireless infosite may be reached at http://www.koretelematics.com/
For information regarding this event, please visit http://m2mbusiness-platform.com/