Emerging standards such as 400 Gigabit Ethernet and OIF-CEI 4.0 (56G) are adopting PAM-4 signaling to address the need for higher throughput in nexgen designs.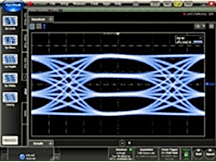 Shifting from NRZ to amplitude modulated signaling, such as PAM-4, introduces new challenges in the design and characterization of high-speed digital devices. The Keysight M8040A is a highly integrated BERT for physical layer characterization and compliance testing. With support for PAM-4, NRZ signals and data rates up to 64 GBaud, it covers all flavors of 400 GbE standards with true error analysis that provides accurate and repeatable results optimizing device performance margins.
If you are working in R&D and test labs and need to characterize digital interfaces for the nexgen of data center interconnects, the streamlined setup and accurate test results from the M8040A BERT will be of benefit —register now for the December 13, 2016, complimentary, 1 hour webcast to learn how to overcome 400G test challenges using PAM-4.
Speakers
Steve Reinhold
Business Development Manager
Keysight Technologies
Steve Reinhold is a Business Development Manager with Keysight Technologies working with high speed serial test technologies. Earlier in his career he developed RF and EMC test systems and high speed BER test equipment. Since joining Keysight, Steve has been involved in testing high-speed serial interfaces such as 100GE, USB and PCI Express using BERTs and oscilloscopes. He holds a BS in Electrical Engineering Technology from Cal Poly and an MBA from UCLA.
Rob Sleigh
Product Manager
Keysight Technologies
Robert Sleigh is a Product Manager for sampling scope solutions in Keysight Technologies' Network and Data Center organization. His responsibilities include product development of pulse amplitude modulation 4-Level (PAM-4) test solutions based on Keysight's high-speed electrical and optical digital communications analyzer (DCA). Robert's experience at Keysight Technologies/Agilent Technologies/Hewlett-Packard includes 5 years in technical support and over 12 years in technical marketing. Prior to working at Keysight, Robert worked for 10 years at Westel Telecommunications in Vancouver, British Columbia, Canada, designing microwave and optical telecommunication networks. Rob earned his B.S.E.E. degree from the University of Victoria.
Moderator: Stephen Hardy
Editorial Director and Associate Publisher
BTR/Lightwave
Stephen is responsible for establishing and executing the editorial strategies of Lightwave and Broadband Technology Report across their websites, email newsletters, events, and other information products. He has covered the fiber-optics space for nearly 20 years, and communications and technology for nearly 30 years.
Find out how the new 64-GBaud BERT can help master 400G designs by attending this complimentary webcast.