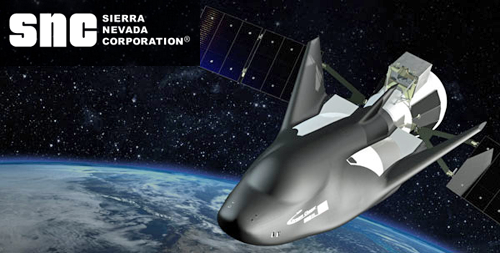 Sierra Nevada Corporation (SNC)
has selected
United Launch Alliance
's (ULA's) commercially developed Atlas V rocket to launch the first two missions of the firm's Dream Chaser cargo system in support of NASA's Cargo Resupply Services 2 (CRS2) contract.
The two awarded Atlas V missions will carry pressurized and unpressurized cargo to the International Space Station (ISS). The first mission is set to lift off in 2020 from Space Launch Complex 41 at Cape Canaveral Air Force Station, in Florida. The second contracted mission is scheduled to lift off in 2021. Dream Chaser will launch atop an Atlas V 552, with a dual engine Centaur upper stage.
The Atlas V has received NASA's highest and most rigorous Category 3 Certification, which allows the Atlas V family of launch vehicles to fly NASA's most complex and critical missions.
The Dream Chaser spacecraft has been in development for more than 10 years, including six years as part of NASA's Commercial Crew Program and leverages more than 40 years of NASA spaceflight and space shuttle heritage. In 2016, Dream Chaser was selected by NASA under the CRS2 contract to transport pressurized and unpressurized cargo to and from the ISS with return and disposal services.
Gary Wentz, ULA's vice president of Human and Commercial Systems, reported that his company is pleased to partner with Sierra Nevada Corporation to launch their Dream Chaser cargo system to the International Space Station in less than three years. ULA recognizes the importance of on time and reliable transportation of crew and cargo to Station and are honored the Atlas V was selected to continue to launch cargo resupply missions for NASA.
Mark Sirangelo, the corporate VP of SNC's Space Systems business area, added that SNC recognizes the proven reliability of the Atlas V rocket and its availability and schedule performance, which makes it the correct choice for the first two flights of the Dream Chase. ULA is an important player in the market and we appreciate their history and continued contributions to space flights and are pleased to support the aerospace community in Colorado and Alabama.