Morgan Stanley Research / Telecom Services (MSR) has published their Satellite Service Provider Earnings preview report and previews the C4Q19 earnings for GOGO, GSAT, VSAT and ATEX.
The report indicates the names under pressure Year-to-Date (ytd), with GOGO -19%, GSAT -3% and VSAT -11%: the company believes the group has struggled to find footing so far in 2020 with few identifiable catalysts on the horizon and a lack of FCF or dividend yield support. While not a satellite company, Anterix also trades on spectrum valuation like some of the satellite operators. The stock has performed well so far ytd (+10%) as the firm awaits the FCC Report and Order for the 900 MHz band.
Heading into earnings, here's what Morgan Stanley Research focused upon...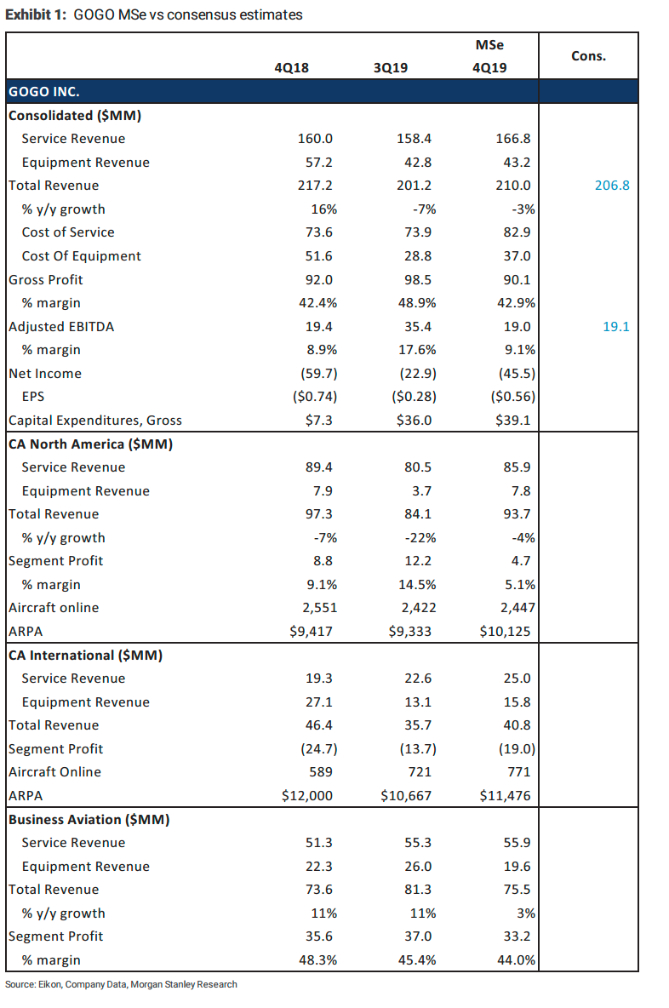 GOGO (Underweight; reporting Friday, March 13) - Focused on the 2020 outlook: Management has called for a sequential drop in EBITDA on higher SATCOM costs and expense timing; the firm is in line with consensus and the high end of guidance at ~$19 M (see GOGO). Looking ahead to 2020, the company has also noted that they will lap $9M in non-recurring benefits and see $10-15M in higher ATG 5G costs along with some other additional program spending, while some ADS-B headwinds are still likely to persist in BA through 1H20; we estimate EBITDA of $149M vs consensus at $141M.
Beyond the 2020 outlook, we are also focused on the following: 1) Any updated commentary regarding Delta free Wi-Fi following the carrier's recent indication that they will seek to roll it out "in the next couple years." 2) Details on any impact from airlines suspensions to China, which is likely having a modestly negative impact in the company's ROW segment (see Gogo Inc: Modest impact likely from airline suspensions to China). 3) Progress on 5G ATG with costs set to ramp in the next year along with any lingering impacts from ADS-B in BA. We update our model with 2019 EBITDA up ~$11M but 2020 EBITDA down ~$8M to reflect the latest management targets and commentary.
GSAT (Equal-weight; earnings date TBA) - Financing accomplished, now focus on spectrum monetization: During 4Q, Globalstar successfully completed its long-awaited financing transaction amending its French bank credit facility agreement and raising a ~$200M second lien facility (led by Thermo and EchoStar) which will help the company manage their debt load. With the transaction behind them, the company expects they'll be able to focus more on their longer-term business opportunities around both the spectrum and the satellite business.
MSR continues to believe that most of the value here lies in Globalstar's spectrum assets (mainly the 2.4 GHz assets). The company has said they're developing more opportunities to deploy their spectrum for private LTE, but still "remain in conversations with cable, carriers and tech companies for nationwide spectrum leasing". We'll be looking for any developments that signal additional progress towards having a deal to monetize the spectrum via lease or sale. Management is also working towards getting the band approved for 5G and is focused on securing more international approvals for terrestrial use of their spectrum which we also expect updates on.
On the satellite side, the company seems most focused on IoT opportunities and is building a pipeline of large projects with both short and long-term development timelines (some of which should benefit 2020). Globalstar has historically not given financial guidance, but with the upcoming earnings release and conference call, MSR hopes to get some sense of trajectory for the segments, particularly Commercial IoT and Duplex. With this note, the firm updates the model to reflect the recent financing transaction and raise our 2019 Adj. EBITDA c. 2% although our 2020 figures are relatively unchanged.
VSAT (Equal-weight; reporting Thursday, February 6) IFC progress and expenses in focus: We are expecting modest sequential pressure on EBITDA for the quarter following some investment areas flagged by management last quarter; we estimate EBITDA of $116M vs $118M last quarter and consensus at $109M. IFC has been a major focus for management in recent quarters, so we will look for updates related to potential new contract wins, while we note the ongoing 737 MAX grounding remains a drag.
Other focus areas include: 1) Ongoing revenue maximization in residential broadband, though ARPU growth could begin to moderate from 17% last quarter as the company laps tougher comps. 2) Continued momentum in government systems, though MSR notes management called out some pull-forward of revenues last quarter. The company is looking for 11% y/y revenue growth vs 7% for consensus and 24% last quarter. MSR updates their model with FY20 EBITDA up 1% in reflection of a strong 1H but FY21 down 5% due to the expected ramp in expenses/investments.
ATEX (Equal-weight; earnings date TBA) - Waiting for the FCC: While not a satellite company, Anterix also trades on spectrum valuation like some of the satellite operators. MSR believes that earnings results this quarter will come second to any announcements on the company's spectrum monetization initiatives. At this point, the company awaits a 900 MHz Report and Order which would lay out specifics around operational rules, how to acquire spectrum and other items. It is possible that the FCC addresses the 900 MHz band at its February 28th meeting; MSR expect sto learn more later this week when the FCC announces the agenda. However, we note that it is possible the item is not discussed at the February meeting given the focus that seems to have gone towards C-Band.
MSR believes other areas of focus will be 1) progress on discussions with potential utility customers 2) updates on retuning progress 3) details on what a potential lease agreement may look like 4) additional use-cases for the spectrum (for critical infrastructure). See more in our note: Anterix Inc: Spectrum Monetization Opportunity, but Patience Is Required; Initiate at Equal-weight (November 11, 2019)