Mr. O'Hara's responsibilities with Intelsat include the global fleet of satellites, product development, product strategy, marketing, global sales, and market development. Prior to his current position, he worked in sales at Intelsat. Before that, he was the CEO for a streaming start-up. Bill also served as an officer in the U.S. Navy.
At IBC2019, Intelsat's focus is on conveying the value of the media ecosystem and showcasing Intelsat's ability to converge and harmonize customer's requirements into a single platform. The company is integrating new solutions for customers and they are taking a fractured ecosystem and turning it into one that simplifies the overall structure for the customer. According to Bill, the goal for Intelsat at IBC2019 Intelsat's aim is to show how satellites can be used to solve various customer challenges.
Intelsat has 40 satellites that are video platforms and a total of 54 global satellites on-orbit.Intelsat's historic strength is in the satellite distribution of content for Direct To Home (DTH) and cable head distribution.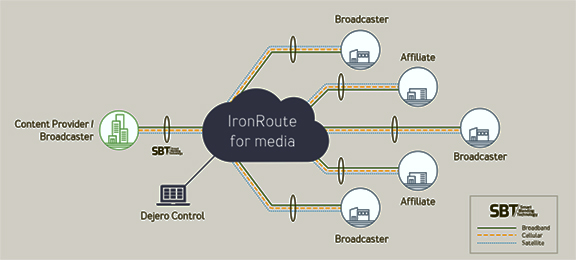 The company's recent partnership with DEJERO for a project named IronRoute offers a cloud-based connective solution that uses broadband, cellular (3G/4G/5G), and satellite connectivity and combines all available network connections to create a virtual 'network of networks' with the necessary bandwidth to deliver broadcast-quality content. This platform intelligently packages connectivity together for the customer's business needs.
Intelsat believes that by adding satellite to the connectivity, they can provide a scalable and reliable platform across the globe. The IronRoute solution simplifies the simultaneous distribution of content to multiple locations anywhere in the world. Because the connective platform is native to the cloud, they are demonstrating IBM Watson services, which is a media processing solution. This shows that Intelsat is able to successfully integrate with the IronRoute solution.
Intelsat wants to show that the company is building an ecosystem of services that solve more than just one problem — all of the firm's services accomplish more than a single task — all are combined to deliver unified solutions, as opposed to platforms that can only offer divergent options.
According to Bill, Intelsat's delivers customer support services for the biggest brands in media, a market segment that has an extremely low tolerance for service interruptions. The company has achieved extremely high up-time levels across their operations. An extremely experienced staff operates Intelsat's Network Operations Center (NOC) which manages services and is engaged in command and control of the firm's on-orbit satellites and more.
One of their leading initiatives, Bill said, is to train and educate customers on new products and help them understand how to effectively use Intelsat products. The bottom line is Intelsat is the gold standard when it comes to media distribution for partners and they have a long history of being first in class for service availability.
Mr. O'Hara noted that Intelsat firmly believes that their core business will remain robust. The value proposition of what the firm offers today is extremely strong, from media to government to commercial services. Bill stated the company's view is that the satellite broadcasting industry has many areas for growth and that satellites definitely need to be an integral part of the broader telecom industry. Intelsat realizes that satellites are not the only solution for connectivity, but they are crucial to deliver connectivity, content and cloud services to the underserved world. As Bill indicated, the company can scale to meet the needs of future applications.
Bill related that customers should select Intelsat for their operations because of the firm's global scale, especially noting that the company's 54 satellites provide cover for the entire population of the world. In his opinion, no other company has invested the time necessary to produce such a highly reliable delivery of global satellite connectivity for media services as Intelsat.
Interview conducted on Saturday, September 14, 2019, at IBC2019 in Amsterdam