[SatNews] Inmarsat (LSE:ISAT.L) has launched its global satellite handheld...
...IsatPhone Pro™ in Japan, which will be available to Japanese users starting in August of this year. Japan's largest mobile carrier NTT DOCOMO, Inc. will deliver IsatPhone Pro to the Japanese market in partnership with JSAT MOBILE Communications Inc., a joint venture between Inmarsat and SKY Perfect JSAT Corporation, which is Asia-Pacific's largest satellite operator, and is also Japan's largest DTH broadcasting platform operator, SKY PerfecTV.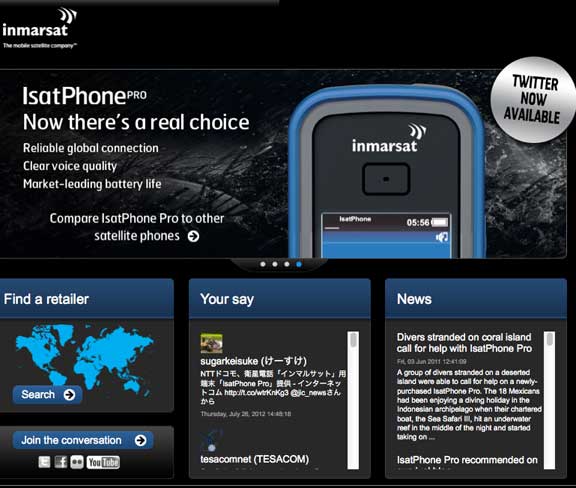 Inmarsat's IsatPhone Pro offers the combination of global coverage, a robust handset, and the longest battery life available in the market, with eight hours of talk time and as much as a hundred hours of standby time. In addition to essential satellite telephony, data, text and email messaging, IsatPhone Pro provides GPS location and social media services. IsatPhone Pro users can send their GPS location, and access Twitter from anywhere in the world, using the handset's short messaging service (SMS) function.
The introduction of IsatPhone Pro addresses the growing demand among Japanese customers for an easy-to-use handheld satellite phone. The service complements NTT DOCOMO's existing mobile satellite services portfolio, centred on Widestar and Widestar II. IsatPhone Pro is also poised to be a major enhancement to solutions for disaster preparedness, aid mobilization, and other mission-critical communications requirements.