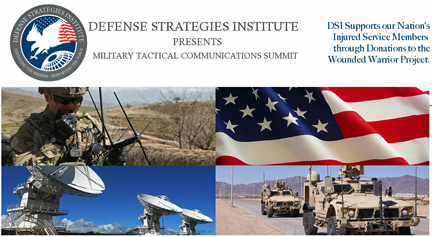 [SatNews] From September 9 -10, 2014, at The Mary M. Gates Learning Center in Alexandria, Virginia, Defense Strategies Institute will bring together stakeholders across the U.S. Military, Government, Academic, and Private Sector to discuss and debate some of the most challenging subjects involved in successfully deploying military communications at the tactical edge at the Military Tactical Communications Summit.
Today's U.S. military services and defense agencies must accelerate the development and fielding of initiatives focused on a networked approach to communications at the tactical edge. While the technical enablers for this concept are rapidly maturing, the operational challenges are quickly coming to the forefront.
DSI's upcoming Summit recognizes that in a field such as tactical communications, where there are multiple agents acting in tandem, it is extremely important that all involved are working towards a cohesive and holistic approach. To this end identifying the parts of the communications process that are the most suitable to maximize efficiency and effectiveness is paramount.
"The Summit is designed to offer a full spectrum viewpoint towards tactical comms. Rather than focus purely on satellites, or radios, or the network, we have created a Summit that will bring together a variety of stakeholders in order to build out two days of discussion and debates that tackle many of the areas involved in enhancing effective and efficient tactical communications," said Monica Mckenzie, Senior Partner, Defense Strategies Institute
"While the field has seen an immense amount of ebbing and flowing, we believe that truly great advancements are on the horizon... and this is why our Senior Partners decided to lend our expertise towards creating a forum that can bring together stakeholders across the continuum of the community," Lisa Madison, Director of Communications, DSI, said.
Some of the subject matter that will be addressed include:
JIE at the tactical edge
SATCOM
Key building blocks for a Joint Aerial Layer Network
C2 OTM
Spectrum management/ shared spectrum access
Mobile technologies for tactical edge users
Electronic warfare/ cyber security considerations at the tactical edge
Improving data link capabilities
Subject matter experts addressing these topics include:
Maj. Gen. Craig Olson, USAF, PEO C3I & Networks, AFLMC
Brig. Gen. Kevin Nally, USMC, Director, C4 /CIO, USMC
Brig. Gen. Daniel Hughes, USA, PEO, PEO PC3T
Col. Mark Elliott, USA, Director, HQ G 3/5/7, LandWarNet/ Mission Command
Mr. Ronald Pontius, SES, Director,C2 and ISR, OUSD (AT&L)/ DASD (C3,Cyber & Business)
Mr. Frank Konieczny, CTO, Office of Information Dominance, US Air Force
Col. Troy Endicott, USAF, Chief, Policy & Integration Division, SAF/ DoD Executive Agent for Space Staff
Col. Scott Normandeau, USAF, Director, J6/CIO, NGB
Mr. John Chapin, PM, STO, DARPA
Recognizing the great sacrifice that our men and women of the Armed Services have endured, DSI supports our severely injured Service men and women and their families through our charitable donations to the nonprofit 501c3 Wounded Warrior Project
In order to allow for actionable discussion and dialogue amongst speaker and attendees, seating will be limited. Register now to reserve your seat. Active military and government personnel attend complimentary. SatNews readers receive at VIP discount of 15 percent. Use code "satnews" when registering.
Anyone interested in participating in the Summit can go to Defense Strategies Institute's website at http://www.tacticalcommunications.dsigroup.org/ for more information.