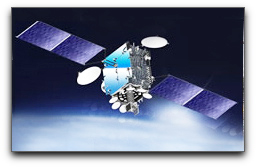 Arianespace has been selected to launch the French-Italian Athena-Fidus dual use satellite, within the scope of a contract signed by Thales Alenia Space and Telespazio and the French and Italian space agencies, CNES and ASI.
The French-Italian
Athena-Fidus
satellite will be lofted into geostationary transfer orbit during the second half of 2013 by an
Ariane 5
or
Soyuz
launch vehicle operating from the
Guiana Space Center
, Europe's Spaceport in French Guiana.
Athena-Fidus (Access on theaters for European allied forces nations-French Italian dual use satellite) is a French-Italian telecommunications satellite that uses state-of-the-art civil broadband Internet technologies. Funded jointly by French space agency
CNES
, French defense procurement agency
DGA
, Italian space agency
ASI
and I
talian Ministry of Defense
, Athena-Fidus will provide communications services to both armed forces and civil security agencies in France and Italy. It will complement the capabilities offered by
Syracuse 3
and
Sicral
satellites.
Thales Alenia Space
will produce the Athena-Fidus satellite using a
Spacebus 4000B2
platform. The satellite will weigh about 3,000 kg at launch, and has a design life exceeding 15 years.