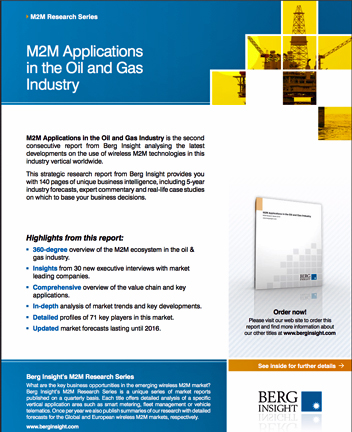 [SatNews] According to a new research report from the analyst firm Berg Insight, the number of devices with cellular or satellite connectivity deployed in oil & gas applications worldwide was 423,000 at the end of 2013.
Growing at a compound annual growth rate (CAGR) of 21.4 percent, this number is expected to reach 1.12 million by 2018. The split between cellular and satellite based M2M devices at the end of the forecast period will be 871,000 units and 244,000 units, respectively. The oil & gas industry is characterized by remote and inaccessible facilities where wireless communication in many cases is the only viable option for transferring M2M data.

North America is the most advanced market for M2M applications in the oil & gas sector. The region is also the home of a majority of the players specializing in the oil & gas industry. Pason Systems, Zedi and Critical Control are North American based companies which are major vendors of field instrumentation, equipment, services and M2M solutions for the of the oil & gas industry. A majority of the companies headquartered in major oil & gas producing regions such as North America and UAE are focused on providing solutions for upstream and midstream activities.
Oil and gas M2M specialists in Europe such as ISA, Powelectrics, Sensile Technologies and Silentsoft are typically more focused on downstream activities such as tank monitoring. Sierra Wireless, Digi International and Calamp are major M2M players that deliver solutions to a wide range of industries, including oil & gas. Other important players are global technology and automation companies. General Electric, Rockwell Automation and Schneider Electric are three such companies which have made substantial investments in SCADA and wireless M2M solutions aimed at the oil & gas market in recent years. Vodafone, Numerex and Orbcomm are examples of communication providers which through in-house resources and acquisitions have developed end-to-end oil & gas M2M applications.

The main drivers for adopting M2M apps in the oil & gas industry are safety and environmental concerns, regulation compliance and demand for improved operational efficiency. Machine-to-machine solutions can be found in applications such as monitoring and control of drills, wells and pipelines. "Booming production volumes of shale gas and tight oil in North America has increased the use of wireless M2M solutions in the upstream segment", said Johan Svanberg, Senior Analyst, Berg Insight. Real-time pipeline monitoring is driving the adoption in the midstream segment. Wireless M2M solutions are retrofitted to existing infrastructure as well as incorporated in new pipeline projects across the world. He adds that "In the downstream segment, cellular telemetry solutions have proven to be a great fit for remote monitoring of storage tanks".

Download the report brochure, M2M Applications in the Oil and Gas Industry, at http://www.berginsight.com/ReportPDF/ProductSheet/bi-oilandgas2-ps.pdf