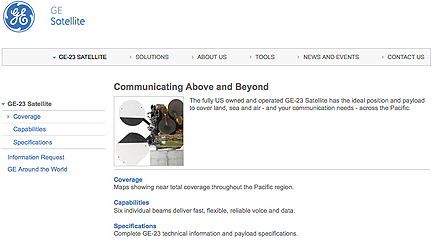 GE - Satellite has been selected by NASA to provide Ku-band satellite connectivity for its ground breaking science mission to study atmospheric and environmental conditions across in the Pacific via Unmanned Aerial Vehicle (UAV).
GE - Satellite
's participation in the
NASA Global Hawk Pacific
(
GloPac
) campaign, the first Earth Science mission to use the UAV for atmospheric and environmental research, illustrates the spirit of innovation embodied by these organizations, as well as the contribution satellite communications provides to science and technology.
This mission further demonstrates
GE - 23
's capability to support a broad range of mobile broadband applications in the Pacific. The GE-23 satellite, ideally suited for the mission due to its comprehensive, dynamic coverage in the Pacific, enabled continuous communications throughout the
Global Hawk
's 14-hour maiden voyage. According to
NASA
, "The Global Hawk's ability to autonomously fly long distances and remain aloft for extended periods brings a new capability to the science community for measuring and observing large areas of the Earth." NASA's Global Hawk has been fitted with 11 science instruments for observing and measuring atmospheric conditions — an unprecedented use for a UAV. The Global Hawk payload includes an antenna to allow it to continuously transmit data and images via the GE-23 satellite. As part of the environmental research mission, scientists measured atmospheric conditions including greenhouse gases, ozone-depleting substances, aerosols, and constituents of air quality in the upper troposphere and lower stratosphere. Future missions include observations from the equator to the Arctic Circle, and west of Hawaii.