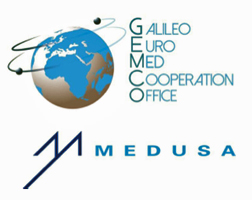 [SatNews] GEMCO (Galileo Euromed Cooperation Office) hosted an event focused on the use of E-GNSS (European Global Satellite Navigation Systems), primarily EGNOS (European Geostationary Navigation Overlay Service), in the domains of the Intelligent Transport Systems (ITS) and for ICT (Information and Communication Technologies).
Organized with the support of MEDUSA, the event catalyzed the interest of start-up companies, SMEs[5] and researchers, stakeholders operating in the field of "geolocalization." The state of the art and the European best practices in the most attractive applications were presented by a delegate from the GSA (the European GNSS Agency, http://www.gsa.europa.eu/).
The attendees had the opportunity to discuss the current use and the exploitation of EGNOS, within the perspective of Galileo. The experiences engendered by success stories in the Maghreb area were also considered, including the ability of E-GNSS to possibly empower their capacity in terms of new products and services. The event was also an occasion for networking, fostering partnerships and cooperation, facilitating exchange with MEDUSA and GEMCO.
Only a few months after its inauguration, GEMCO has considerably increased its awareness and it is a point of reference for initiatives related to E-GNSS in the region.
The event's material is available for download on the project's infosite at this link.