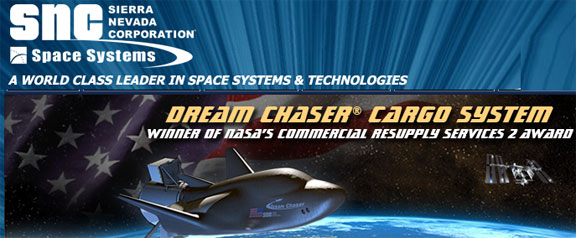 [Satnews] NASA has competitively selected Sierra Nevada Corporation's (SNC) Space Systems to receive a multi-year contract to provide cargo delivery, return and disposal services for the International Space Station (ISS).
SNC received a Commercial Resupply Services 2 (CRS2) contract, to fulfill a minimum of six cargo delivery service missions to and from the ISS using SNC's Dream Chaser Cargo System. NASA's selection of SNC for the CRS2 program will enable spacecraft reusability and runway landings for United States' cargo delivery and access to the ISS through 2024.
SNC is the owner and prime operator of the reusable Dream Chaser spacecraft, which has been in development for over 10 years, including six years as part of NASA's Commercial Crew Program and leverages over 40 years of NASA development and space shuttle heritage.
SNC's Dream Chaser Cargo System features include:
An innovative folding-wing design which allows the Dream Chaser spacecraft to fit inside existing launch vehicle fairings, making it compatible with a diverse suite of rockets and assuring access to space
The ability to simultaneously deliver 5,500 kg of pressurized and unpressurized cargo to the ISS, which exceeds NASA's CRS2 RFP requirements
High reusability that reduces costs and enables quick reflight. Responsive pressurized cargo return capability – ensuring scientific experiments are promptly returned to the researchers as intended and without contamination
Low-g reentry and gentle runway landing – critical for the return of sensitive payloads, scientific experiments and immediate access to cargo
All non-toxic propellants and consumables, making the Dream Chaser spacecraft the first vehicle in history to achieve this level of environmental responsibility
The Dream Chaser program will continue to be based in Louisville, Colorado. SNC expects to significantly expand operations in Colorado and throughout the United States, in conjunction with its international partners, to support contract requirements. The growing employment scope and economic impact of SNC and its partner organizations – the Dream Team – now spans over 25 states and 15 countries and will continue to grow under the CRS2 contract.
Eren Ozmen, president of Sierra Nevada Corporation, said, "In such a major competition, we look forward to successfully demonstrating the extensive capabilities of the Dream Chaser spacecraft to the world. SNC's receipt of this award is an American Dream come true for all of us. We thank NASA, the Administration and Congress for recognizing the importance of this vital program by supporting the CRS2 contract."

"The Dream Chaser Cargo System offers NASA a safe, reliable and affordable solution for ISS cargo delivery, return and disposal, ensuring the effective utilization and sustainability of the ISS for years to come," said Mark N. Sirangelo, corporate vice president of SNC's Space Systems. "Within a few short years, the world will once again see a United States winged vehicle launch and return from space to a runway landing. We wanted to thank our more than 30 industry, university and NASA center partners for helping us make history and open up the next generation of spaceflight."