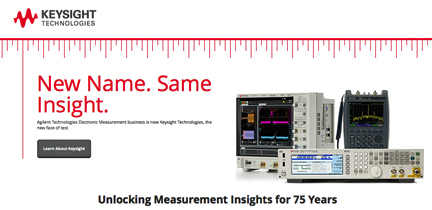 [SatNews] Keysight Technologies, Inc. has received an Innovation Award from the U.K. government for its research into cyber threat detection.
The award was presented to the Keysight research team by Professor Nick Jennings, chief scientific adviser for U.K. National Security. The U.K. government outlines in its National Security Through Technology white paper the need to detect and investigate threats using innovative science and technology. Keysight was selected as the winner of the award based upon its highly innovative approach in addressing this need.

"We are honored to receive this level of recognition," said Tom Burrell, VP and general manager of Signal Network Division at Keysight. "Protecting networks from cyber threats through measurement insight is core to our mission. The innovation and hard work from the Edinburgh team to apply their signal processing knowledge to cyber threat detection represents another measurement science first."

On September 19, 2013, Agilent Technologies announced plans to separate into two publicly traded companies through a tax-free spinoff of its electronic measurement business. The new company, Keysight Technologies, began operating as a wholly owned subsidiary of Agilent on August 1, 2014, with a full separation anticipated in early November of 2014. Keysight is expected to trade on the NYSE under the symbol KEYS.

Keysight is a global electronic measurement technology and market leader helping to transform its customers' measurement experience through innovation in wireless, modular, and software solutions. Keysight provides electronic measurement instruments and systems and related software, software design tools and services used in the design, development, manufacture, installation, deployment and operation of electronic equipment.
Information about Keysight is available at http://www.keysight.com/.