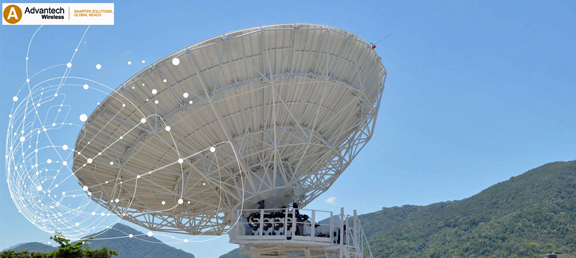 Just released by Advantech Wireless is the firm's new, Ultra-Compact All-Outdoor Ka-8200 VSAT transceiver-router that is specifically designed for M2M, SCADA and IoT over satellite and can be combined with all other Advantech Wireless VSAT terminals within the same A-SAT-II system, according to application requirements.
The ultra-compact all-outdoor Ka-8200 VSAT transceiver-router features technological advancements such as Software Defined Radio and Direct Modulation with integrated Ka-band transceiver-router delivering the versatility and ease of deployment required in Machine-To-Machine (M2M), Internet-of-Things (IoT) and SCADA/Telemetry low data rate random access applications over Ka HTS satellites.
A Ku-band version the Ku-8200 is also available and has been designed mainly for applications such as VoD, Interactive-TV, Program Rating and other broadcasting related applications sharing the same satellite as content broadcasting, or in areas where Ka-Band HTS satellites are not available.
The Ka-8200 has been designed for a wide variety of low data rate random access satellite applications such as:
Transaction Oriented Applications: Gas Stations, ATM Banking, Lottery terminals, Self-Service Voting Kiosks
Interactive-TV: VoD, Program Rating, Shopping, Social TV
Sensor Networks such as Oil and Water pipe lines, Smart Fences and Perimeter Control
Smart Grid, M2M, SCADA and Telemetry
Smart Home and Internet-of-Things (IoT)
Large-scale Random Access Messaging Networks
At IBC2016, the Advantech Wireless stand is 1.F40 to view their product lines.