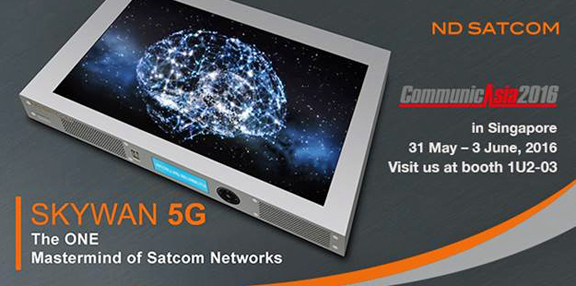 Driven by demand from high-security defense customers, ND SatCom has released new software for both FIPS/WGS and non-FIPS systems for all customers.
Addressing the needs of our North American defense industry customers, ND SatCom enhanced the FIPS-certified software release V7.250.10 to give full support for multiple MF-TDMA demodulators. In addition, this new release — V7.250.14 — now supports antennas from various COTM antenna manufacturers. The company's sales channel, Airbus DS Government Solutions, performed intensive testing and recently delivered the software to the first COTM customer.

These feature enhancements, together with the cross-strapping functionality, allow for operating meshed networks for worldwide missions with stations in the respective home country as well as also mixing fixed and mobile SKYWAN terminals in one highly secure network. This software release is designed to run on the SKYWAN 7000/2x70 FIPS 140-2 Level 3 (tamper-proof) verified hardware. When used with the WGS hardware option, these SKYWAN 7000/2x70 units are also verified for WGS use.

In parallel, ND SatCom released identical software V7.200.90 (SKYWAN 7000/2x70) and V1.200.59 (SKYWAN 1070) without the FIPS extension. This software is for general use to all commercial and governmental customers.
Can the FIPS software be used on non-FIPS hardware platform?
No, FIPS software requires special hardware to run.

What benefits are there for non-FIPS networks?
Operational networks benefit from increased robustness and stability of the new commercial software releases V7.200.90 and V1.200.59.

How does one upgrade to this new software version?
Upgrade your live network using your existing SKYWAN NMS. Contact ND SatCom Customer Support today to get your individual download details.
Is a new SKYWAN NMS version required?
No upgrade of NMS is required when a 7.25 / 7.20 / 1.2 compatible NMS is already installed. All enhancements are on the SKYWAN IDU side.