[SatNews] Coming soon is NSR's 4th edition Satellite Manufacturing & Launch Services (SMLS4) report, which is the definitive guide for opportunities within the sector over the next 10 to 15 years.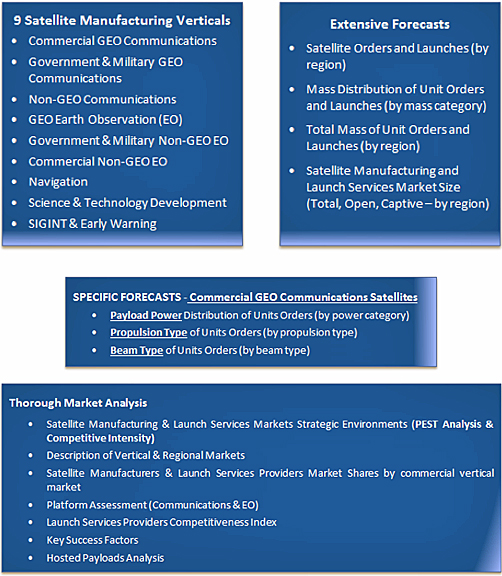 Through extensive contacts with satellite manufacturers and launch providers, completed by thorough research, SMLS4 is the result of a rigorous bottom-up analysis segmented by nine satellite manufacturing verticals and all geographic regions. Combining market analysis with extensive and granular forecasts, SMLS4 is an actionable tool for decision making processes. Key questions that are answered in the report...
How many GEO communications satelliteswill be ordered per year in the next 10 years

How many will use Electric, Hybrid or Chemical Propulsion?
What will be their Mass & Payload Power?
How many will use a multi-spot beam architecture?

Will commercial demand compensate for government budget cuts for EO satellite orders? Is "smaller" the way to go for EO?
What is the outlook for Hosted Payloads?
How are satellite integrators faring?

What are their market shares?
How do their platforms compare?

What will the Launch Services competitive landscape look like in the next 10 years?

Will launch supply match launch demand?
How do Launch Services Providers compare?
How will new entrants impact the current players? How likely is a new price war?
Which addressable markets for Launch Services Providers given their launch-vehicle capabilities and their region of origin?
For further information, please access this direct infopage link.