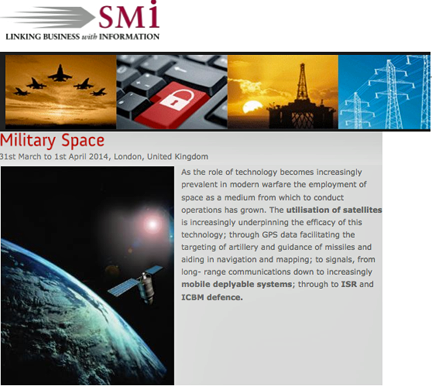 [SatNews] MilSpace 2014 will bring together senior military figures and leading experts in the field of space technology, global navigation satellite systems, space based ISR and missile defence. Learn how the militarisation of space is evolving; including civil-military cooperation, utilisation of space data, US and European approaches to space operations and future challenges.
Hear from the 2 exceptional keynote addresses:
Brigadier General Friedrich Teichmann, Director, Geospatial Department, Austrian Armed Forces
Presenting on: A multi-dimensional approach to GeoWeb-Service: Potentials and applications
Modern Information and Distribution Management for Geospatial Data
Earth Observation Data – Satellite Imagery –Remote Sensing
Delivery of GeoIntel Products
Civil military Cooperation—Effect Based Operations—Comprehensive Approach – Network Enabled Capabilities
Brigadier General Ian Fordred, General Officer Commanding, Command and Management Information Systems Support Foundation, South African National Defence Force
Presenting on: The importance of HF communications in supporting military operations
Fundamentals of Ionosonde technology
Space Weather effects on HF Communications in the African environment
The monitor of the Ionosonde to support frequency predictions
Importance of HF Communications in supporting Military Operations
The 2014 speaker faculty also includes: Nigerian Navy, Italian MoD, Joint Space Command, European Space Agency, German Ministry of Defence, Royal Air Force, Office of Naval Research Global, Royal Netherlands Air Force, French MoD, United States Marine Corps, Signalhorn GmbH plus many more.
Click here to download the event agenda with the full list of speakers and their topics.
Please visit http://www.military-space.com/ for more information