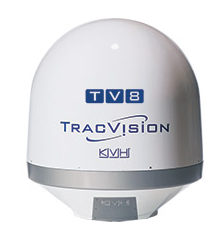 [SatNews] KVH Industries, Inc., (Nasdaq:KVHI) announces the introduction of the TracVision® TV8 maritime satellite TV antenna system, which is designed to provide the tracking, reception, and extended coverage area needed for yachts and merchant vessels calling on ports around the world. The TracVision TV8 is compatible with nearly all Ku-band services around the globe, and it also supports such services as DIRECTV®, DISH Network® and DISH HD, and Bell TV in North America, and TrueVisions, Astro, and Sky TV in the Asia-Pacific region. The TracVision TV8 is being unveiled at the Sea Asia conference in Singapore, which begins Tuesday, April 21.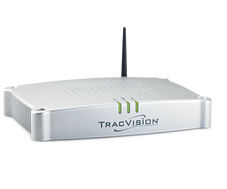 A powerful, fully stabilized system, the 81 cm (32 inch) diameter TracVision TV8 enables yacht owners to enjoy their favorite satellite TV programming while on the water; the system also makes it possible for commercial maritime operators to ensure their crew has access to the recreational entertainment services that are now recommended by international regulations such as the Maritime Labor Convention (MLC) 2006.
"The TracVision TV8 has the top engineering characteristics our antenna systems are known for around the world," says Martin Kits van Heyningen, KVH's chief executive officer. "With its advanced tracking and extended coverage area, it is an ideal system for a super yacht in the Mediterranean, a tanker ship in the Baltic, or any number of ships on the world's oceans. These rugged systems are fully stabilized and stay locked on the satellite even in heavy seas."
The TracVision TV8 system represents the latest technology in maritime satellite TV, a market where KVH has produced products for more than 17 years. KVH's TracVision satellite antenna systems are currently in use on everything from container ships, tankers,
commercial fishing vessels and government patrol boats to cruising sailboats and luxury superyachts.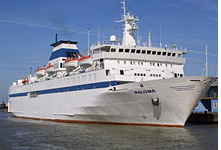 Innovative features of the new system include the streamlined IP-enabled TV-Hub delivering easy setup and operation. For advanced functionality and performance, the TracVision TV8 includes:
Single coaxial cable for power, data, and video for easy installations and retrofits
High-performance tracking for crystal-clear television picture in heavy seas
IP-enabled antenna control unit with Ethernet connection and built-in
Wi-Fi interface for access to system information from any Wi-Fi device
Advanced inertial-based stabilized search for fast satellite acquisition
Exclusive RingFire(TM) antenna technology for stronger signals, wider geographic coverage, and better reception
DVB(R)-S2 technology for compatibility with current and future Ku-band satellites
IP AutoSwitch option for multiple receiver installations enabling simple automatic satellite switching on DISH Pro and DiSEqC(TM) compatible services