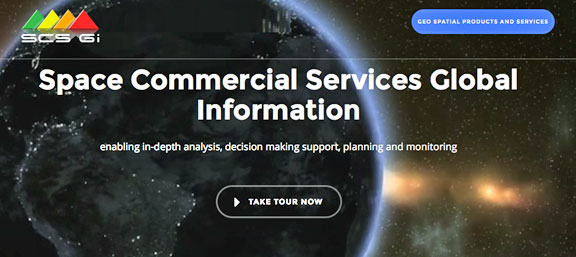 [Satnews] Africa can now rely on the services of a satellite constellation tailored for the continent to provide reliable data over a wide range of essential human activities and for the protection of the environment.
The constellation, which combines the services of ten satellites with the capability of covering any part of the continent at least once a day, was introduced at an African Satellite Remote Sensing Conference in Pretoria by Africa's leading private space company, the Space Commercial Services Aerospace Group (SCS AG).
This service will be provided by SCS Global Information (SCSGi) is a subsidiary of the SCS Aerospace Group headquartered in Cape Town. The SCS AG group consists of three lines of business that include small satellite engineering, satellite component manufacturing and global information services.
The SCSGi African Satellite Constellation combines the capacity of the following satellites over Africa—the Chinese TripleSat Constellation, RadarSat-2, Deimos 1 & 2; KazEOSat 1 & 2; Landsat 8, MODIS and the Urthecast cameras IRIS, Theis and HRC-DM on the International Space Station. These satellites can be tasked to collect near real-time data on a 24/7-basis globally to deliver timely reliable information services.
Services are provided through an online ordering system which makes it easy for customers to order their imagery. The use of such an African virtual satellite constellation makes it possible for processes to be monitored in hours, minutes and seconds, instead of days.
"Satellite technology is set to become an indispensable component of smart governance and economic development in Africa to ensure growth and prosperity for all the peoples of the continent," said Dr. Sias Moster, CEO of SCS AG in his address to the delegates. "Governments agencies and private companies can now have reliable, dependable, real-time high-quality data obtained through satellite imagery to support a wide range of services such as crop assessments, forestry management and deforestation, environmental protection, fire warnings, insurance risk assessments, address validation, infrastructure monitoring, urban and rural development, population counts, border control and maritime security. We are now in the position to provide monitoring and management services anywhere in Africa at least once a day with a minimum turn-around time of 30 seconds to 6 hours and a resolution down to 0.5 meter. Some types of services can be provided regardless of cloud cover or time of night or day.

"The time is right for Africa to become part of the worldwide outer space industry bolstered by amazing technological feats such as rovers on Mars, close-up satellite fly-by's of Mercury and Pluto, a craft landing on an asteroid, NASA's aim to send humans to Mars within two decades and commercial space travel now almost a reality. Within a decade every African in even the remotest part of the continent will be able to access the internet on a mobile device directly through satellites."