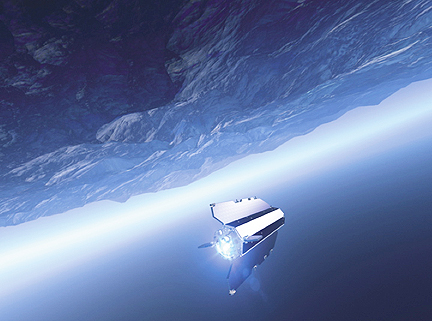 The GOCE (Gravity field and steady-state Ocean Circulation Explorer) satellite was successfully launched today from the Plesetsk Cosmodrome in Northern Russia.
Developed and integrated by
Thales Alenia Space
for the
European Space Agency
(ESA),
GOCE
is the most sophisticated mission ever to investigate the Earth's gravitational field and to map the reference shape of our planet — the
geoid
— with unprecedented resolution and accuracy. It will also provide invaluable insight to better understand our climate and ocean circulation. GOCE is the first
Core Mission
in ESA's
Earth Explorer
program. During its planned orbital lifetime of 20 months, it will provide the first high-resolution map of the Earth's gravitational field, knowledge which is fundamental for oceanographic, geophysical, geodetic, glaciology and climatology applications.
Thales Alenia Space is ESA's prime contractor for the realisation of the GOCE satellite and has been responsible for its project development, integration and testing. The company also developed the sophisticated
Electrostatic Gravity Gradiometer
, which is the main payload, for measuring the terrestrial gravitational field, and relies on a set of six ultra sensitive capacitive sensors. Further contributions made by the company to one of ESA's most challenging missions include:
The "drag free and attitude-control" system to compensate the braking effect of atmospheric molecules still present on operational orbit
The end-to-end simulator, capable of generating equivalent mission data and of estimating the end-to-end in-orbit performance, which is not verifiable on ground
A couple of sophisticated GPS receivers and the on-board computer.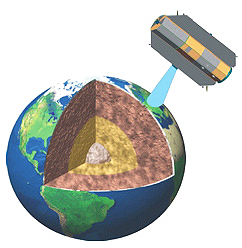 Thales Alenia Space also coordinated work by 45 European subcontractors, including
EADS Astrium
of Germany, which built the satellite platform, and French aerospace Lab
ONERA
, which developed the dedicated high-precision accelerometers for the gradiometer. "This is the latest major success for Thales Alenia Space, and reflects our deep commitment to developing the scope of Europe's scientific missions," said
Luigi Pasquali
, CEO of Thales Alenia Space Italy. "Our work on GOCE once again demonstrates our outstanding expertise and capabilities, in particular our ability to effectively meet the complex challenges of scientific missions. We are delighted with today's successful launch and are looking forward to an equally successful mission, further spotlighting Thales Alenia Space's long experience and leading position in this exciting sector."