OneWeb has announced a partnership with Intellian to build user terminals designed specifically for remote enterprise networks, cellular backhaul expansion and remote connectivity needs.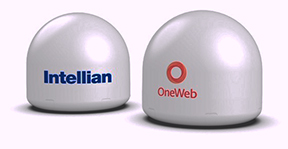 The user terminals will be the units provided to customers to enable the high-speed, low latency service that the global satellite constellation will deliver. These user terminals will be perfect for a range of use cases including connecting businesses in rural areas, schools, hospitals, farms and community centers.
This partnership represents a significant step-forward in the development of OneWeb's system following the launch of its first satellites and its first customer announcements in February 2019. With six satellites now on-orbit and a range of antennas now in place, OneWeb is ready to advance the development of its portfolio of user terminals, ranging from compact flat panels to highly-efficient dual parabolics. All the user terminals will be designed to serve a range of customer needs, market verticals and use cases.
With many remote and unconnected areas around the world still lacking access to broadband, these user terminals will help to close to gaps and connect remote enterprises, as well as, expand cellular backhaul capacity which is essential for extending connectivity. The terminals will utilize dual-parabolic antennas to deliver cost-effective and efficient throughput making high-speed and low-latency services available in hard-to-reach areas and helping bridge the digital divide. OneWeb expects these terminals to be available for Commercial use in 2020.
Adrian Steckel, CEO of OneWeb, said this is an exciting moment for OneWeb as the company expands and develops the firm's own user terminals with an extremely important partner. The company's user terminals will always be designed with customer needs in-mind, ensuring a service is delivered they can trust.
Eric Sung, CEO of Intellian, noted that the company is thrilled that the firm's design and manufacturing capabilities will help connect people in remote locations to this new satellite ecosystem.