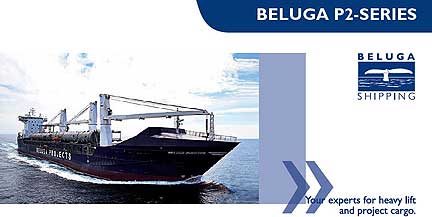 [SatNews] MTN Satellite Communications (MTN), has been selected by German project- and heavy-lift carrier Beluga Shipping to install a broadband VSAT system on the new MV Beluga Shanghai.
MTN is a global service provider of communications, connectivity, and content services to remote locations around the world.
Beluga Shanghai is one of Beluga's new P-class series of super heavy-lift vessels, which offers crane capacities between 800 and 1,400 tons
and loading capacities of up to 20,000 deadweight tons.
The shipboard VSAT's will use
MTN's Ku-band network, which provides coverage over most of the major sea lanes around the world. The ship will also be equipped with Inmarsat Fleet Broadband 500 satellite terminals, which will be used as a secondary satellite connection with automatic switchover when out of Ku-band coverage area.
The MTN software will include least-cost routing analysis to select the optimum communication pathway. Additionally, Beluga is installing a fixed MTN VSAT solution in Bremen, Germany. The land-based unit will be used for system integration and vessel simulation.
Beluga's
initial service plan calls for 128 kbps guaranteed committed information rates (CIR's) with the ability to burst to higher rates as needed to accommodate surge requirements. Beluga Shipping plans to leverage the broadband ship-to-shore connections to integrate the vessels' ICT systems and processes into its worldwide enterprise ICT infrastructure and network.
For instance, the ship's voice-over-IP (VoIP) switching system will be connected via MTN to the central PBX at Beluga's headquarters, so that Beluga can manage the entire fleet from the central unit as a large worldwide network.
After evaluating the first ship installation, Beluga may consider installing the MTN VSAT solution aboard additional vessels, according to Stolberg.