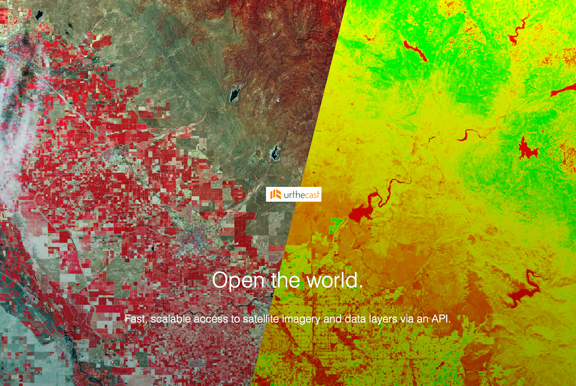 [SatNews] UrtheCast Corp. (TSX:UR) ("UrtheCast" or the "Company") announces their subsidiary has closed its previously-announced acquisition (the "Acquisition") of the Earth Observation business dba Deimos Imaging and DOT Imaging ("Deimos Imaging") from Elecnor, S.A. ("Elecnor"), for an aggregate price of 76.4 million euros.
Of that amount, 71.2 million euros was paid at closing, consisting of the agreed upon price of 69 million euros plus a working capital adjustment of 2.2 million euros, and an additional 5.2 million euros will be paid over the next five years. The all-cash transaction was financed with a combination of the net proceeds of an offering of 24,868,750 subscription receipts of the Company (the "Subscription Receipts") at CAD$4.00 per Subscription Receipt and cash on hand.

In addition to ownership and operation of the Deimos-1 and Deimos-2 satellites, UrtheCast has acquired satellite operations related to the collection, storage, processing, analysis, distribution, and licensing of imagery captured by these and other satellites. The combination of UrtheCast and Deimos operations is expected to significantly accelerate UrtheCast's strategies related to distribution, web platform development, and the building out of the UrtheCast Constellation.
In conjunction with the Acquisition, UrtheCast has entered into a Mutual Cooperation Agreement with Deimos Space, S.L.U ("Elecnor Deimos"). This agreement contemplates the participation of Elecnor Deimos as a strategic implementation partner for UrtheCast's planned 16-satellite constellation consisting of both optical and SAR instruments. Elecnor Deimos will join the other strategic partners expected to be involved in UrtheCast's constellation, which includes various Canadian companies expected to build elements of the SAR payload, as well as Surrey Satellite Technology Ltd. (UK) for the spacecraft platforms and optical payload.
Concurrent with the closing of the Acquisition, each Subscription Receipt was deemed exchanged for one common share of UrtheCast (the "Common Shares"). The Common Shares will be issued to the holders thereof as soon as reasonable and practicable in accordance with the terms of the Subscription Receipt Agreement dated July 7, 2015, a copy of which is filed under UrtheCast's SEDAR profile at http://www.sedar.com/. The Subscription Receipts will be delisted from the Toronto Stock Exchange.
As a result of the upsize of the offering of Subscription Receipts on June 23, 2015, the Company was able to close the Acquisition without the need to draw on the previously announced commitment letter to provide a first priority secured term loan of 37.5 million euros. UrtheCast will, from time to time, determine what level of debt and related conditions, if any, are appropriate given the increased equity offering.
Executive Comments
"This is our first step off the Space Station, and an exciting growth opportunity that will help to accelerate our UrtheCast Constellation plans, while populating our platform with powerful content," said Scott Larson, UrtheCast Co-founder and Chief Executive Officer. "By acquiring the entire satellite operations, two satellites and two ground stations, we've created another substantial revenue stream for the Company, and have improved our imagery archive with 6.5 billion square kilometers of Deimos Imaging data."
UrtheCast President and Chief Operating Officer, Wade Larson, said, "In combination with Deimos Imaging's robust customer base, our business development program is poised for further growth this year. Deimos Imaging has an established customer base in Europe and Latin America, including the European Space Agency, as well as commercial customers in the agricultural, forestry, and land use industries. "
Fabrizio Pirondini, Deimos Imaging Co-founder and Chief Executive Officer of Deimos Imaging, S.L.U., said, "These are exciting times for the Deimos Imaging team. By joining UrtheCast, our team is ready to contribute to the shared vision of disrupting the Earth Observation industry."
The Deimos-1 satellite specs
Launched: 2009
Estimated lifespan: 10 years
Imagery: 22m-resolution, 3-band imagery, with a 650-km swath
Collection rate: Data downloaded every 90 minutes, imagery collected 24/7
Collection capacity: 5,000,000+ square-kilometres per day
Facts
High revisit rates over mid-latitude regions
Designed for monitoring agriculture and forestry
A member of the Disaster Monitoring Constellation
Large coverage allows for identifying problem areas in crops
The Deimos-2 satellite specs
Launched: 2014
Estimated lifespan: 7 years
Imagery: 75cm pan-sharpened images, with a swath of 12km
Collection capacity: 150,000+ square-kilometres per day
Facts
Acquires imagery in either strip mode (images up to 1500 km long) or in spot mode, shifting between targets
An agile platform, moving ±45° off nadir
Wide-area acquisition mode can acquire 24-km wide strips up to 200 km long in a single pass
Once problem areas are located using Deimos-1 imagery, Deimos-2's finer resolution allows for more detailed analysis of the same region