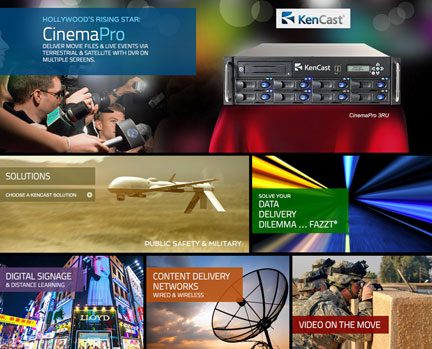 [Satnews] KenCast Inc. will be featuring Live Event Coverage, their latest release of Fazzt (Version 9.0) and terrestrial peer-to-peer high speed delivery solutions at the satellite show that opens next week at the Gaylord National Convention Center.
KenCast's Fazzt® Digital Delivery Software enables efficient, reliable, and secure multicast and unicast distribution of large files and live streams over terrestrial and satellite networks. This software is used by Associated Press, Bank of America, Viacom, several TV news networks, government agencies such as DISA, large retailers such as Target Stores, and hundreds more.
Live Event Coverage
KenCast will demonstrate its enhanced Live Event Coverage from mobile platforms, using drones and smartphones, as well as professional camera platforms, all broadcasting at 1080p to select online sites, enterprise sites, or movie theaters.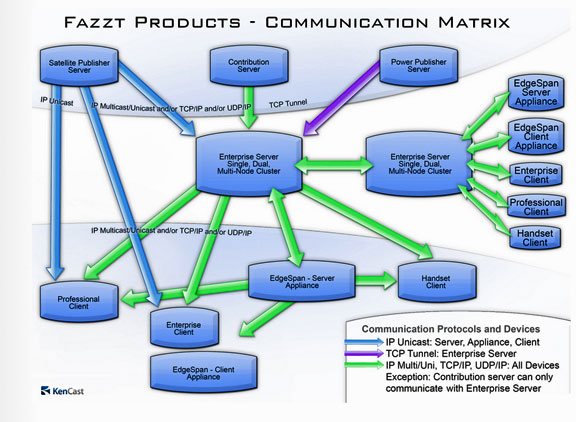 Fazzt 9.0
Fazzt 9.0 is just as reliable, efficient, and secure as previous releases, but with added customer requested features, such as...
Streaming & recording enhancements for live events, even at cinema-quality 4K resolution
More advances for accelerated delivery and network bonding with split/join features for exceptionally high speed delivery of very large files
Support for new Platforms, Embedded and Legacy Systems
New high performance FEC encoding & transmitting at fiber optic speeds (up to 1 GBPS)
Network roaming and Network Functions Virtualized (NFV) features
Powerful redundancy and failover features for mission-critical operations
Add-on Module with KenCast's Repozzitory to handle BIG DATA collection, storage, and delivery to/from the cloud
Legacy Fazzt implementations can be upgraded to Fazzt 9.0 with BIG DATA capability

Terrestrial Peer-to-Peer
In addition to Live Event Coverage and Fazzt 9.0, KenCast will be presenting their new Terrestrial Peer-to-Peer solution for one-to-many delivery; a content delivery management capability. This reliable headend solution is designed for simultaneous multicast and unicast delivery along with an automatic failover to unicast capability in the event where the multicast initially fails due to congestion or down node.
The terrestrial solution relies on unused bandwidth within the content delivery network, which means reduced cost for participating enterprises. The solution includes central content management of very large files in DRM formats, live events in
HD/UHD format, signage/advertising, and more. Other features of the terrestrial peer-to-peer solution include...
Encrypted files and streaming content for secure collection and delivery
Live video stream protection with KenCast's Fazzt error correction software
Capacity to run on multiple nodes (computers) for load sharing and redundancy
Ability to schedule DCP delivery at any time with pause-and-resume functionality