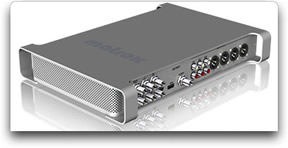 Streambox, Inc. has announced a partnership with Matrox, a provider in the field of HD and SD digital video hardware and software for realtime editing, audio/video input/output, capture/playout servers, clip/still stores, and CGs.
Streambox
and
Matrox
have integrated Matrox's
MX02
SDI device with the Streambox®
ACT-L3
™ Software Encoder to enable SDI-based video capture and streaming for
Mac
® OS laptops running Streambox encoding software. The Streambox® ACT-L3™ Software Encoder enables mobile reporters to gather, edit, and stream high-quality video over low-data-rate IP connections — making it a powerful solution for newsgathering from a variety of locations. Until now, mobile reporters were limited by their laptops to ingesting only digital video via a FireWire® connection. With the addition of the portable MX02 unit, the laptop encoder can ingest SDI video, resulting in much higher picture quality.
As a Matrox OEM, Streambox will be selling the MX02 with Streambox® ACT-L3™ Software Encoders as a complete solution for SDI-based video streaming. The solution is currently available for Mac OS laptops and
Windows
® drivers will be offered soon.