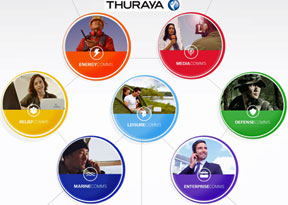 [SatNews] Thuraya Telecommunications Company now has a partnership with Satellite Communication SA, a provider of data communications and voice services in Europe.
Headquartered in Switzerland, Satellite Communication customers across key markets such as government, relief, maritime and leisure (including climbers, adventurers and sailing enthusiasts), will now have access to Thuraya's portfolio of mobile satellite products and solutions.
"Thuraya's service partnership agreement with Satellite Communication strengthens our commitment to expand and diversify our customer base across Europe. Our end-users are becoming more globalized, demanding voice and data connectivity from the remotest regions or at sea. Thuraya has addressed this need with an expanding and innovative product portfolio including the SatSleeve, land, maritime and vehicular broadband terminals which are designed to suit almost any need. Our partnership with Satellite Communication enables us to reach more customers in growing sectors such as Government, Energy, Maritime and NGOs across our satellite footprint," said Bilal El Hamoui, Vice President of Commercial at Thuraya

Muiz Sa'ad, Chief Executive Officer of Satellite Communication, said, "Our partnership with Thuraya allows us to extend a complete portfolio of mobile satellite services to our customers. Thuraya offers high quality products with flexible price packages that are easily tailored to our customers' needs. Moving forward, we will be enhancing our customer service division by offering 24x7 technical support which allows us to support our customers no matter where they are."
The Thuraya infosite is accessible at http://www.thuraya.com/.