According to Chinanews.com and editor Li Yan , Chinese commercial rocket firm OneSpace Technology completed B round financing of 300 million yuan ($43.8 million).
The move is a positive sign, given rumors that there is a shortage of capital in the industry, analysts said. They said the funding will also help advance the domestic commercial rocket sector and boost Chinese companies' confidence to catch up with world leaders such as U.S.-based SpaceX.
The funding was led by CICC Jiatai (Tianjin) Equity Investment Fund and followed by FinTrek Capita, while its shareholders like China Merchants Innovation Investment Management Co increased investment, read a press release the firm sent to the Global Times. Founded in August of 2015, OneSpace has secured four rounds of financing, raising about 800 million yuan.
OneSpace CEO Shu Chang said that the funds will be used in the research and manufacturing of the company's OS-X and OS-M series rockets, industrial upstream and downstream layout, intelligent manufacturing base construction and building a team of talented staff, according to the press release.
OneSpace has plans for two launches by the end of this year. The company is expected to achieve annual production capacity of more than 30 OS-M series rockets and 20 or more OS-X series rockets by 2020, Shu said in a press release. On May 17, OneSpace successfully launched the country's first privately designed commercial rocket, the Chongqing Liangjiang Star.
The new investment will raise confidence in China's private commercial rocket sector, where many have worried that companies were finding it hard to raise money amid recent instability in the capital market, Lan Tianyi, founder of Beijing-based Ultimate Blue Nebula Co, a space industry consultancy, told the Global Times on Sunday.
The domestic private commercial rocket industry has grown fast in recent years with several companies attracting increased attention such as OneSpace, Beijing-based LandSpace and iSpace, Huang Zhicheng, professor of the Beijing Institute of System Engineering, told the Global Times on Sunday.
LandSpace is scheduled to launch its first orbiting rocket in the fourth quarter, equipped with a commercial satellite, according to domestic technology news site 36kr.com.
Experts said that although the domestic private commercial rocket sector is expanding fast, Chinese companies still lag behind global leaders.
Domestic commercial rocket producers are still lagging behind U.S. players such as SpaceX in terms of technology and scale, Huang said, noting that the U.S. rocket company, which was set up in 2002, is more than a decade old while Chinese private commercial rocket companies are in their infancy.
There are also differences in national policies, with the U.S. giving much support to emerging private companies in terms of technology and capital through the space agency NASA, according to Huang.
"Chinese commercial rocket producers have a bright future," he noted.
The first private commercial aerospace intelligent manufacturing base in the country, which is being built by OneSpace in Southwest China's Chongqing, will be completed and put into production by the end of 2018, according to OneSpace.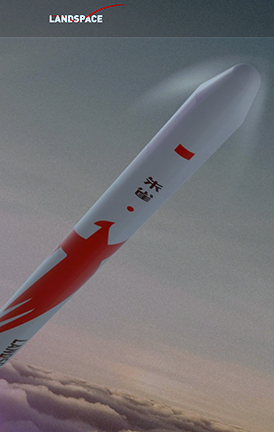 Additionally, Beijing-based private space launch company LandSpace announced plans to launch their first rocket into orbit during the last quarter this year — according to the company, this will be China's first private rocket to carry out a commercial launch mission.
LandSpace said that a three-stage solid propellant rocket named Zhuque-1 will carry a China Central Television (CCTV) satellite for space science and remote sensing for a TV show at CCTV, in the fourth quarter this year. Zhuque-1 is LandSpace's self-developed, 19 meter tall rocket with a 1.35 meter diameter and a takeoff mass of 27 metric tons and thrust of 45 tons. Th will operate two years in a Sun-synchronous orbit (SSO).
Founded in 2015, LandSpace has two research centers in Beijing and Xi'an and a smart manufacturing base in Huzhou, Zhejiang, and about 150 R&D professionals. LandSpace became the first private Chinese commercial space launch company to sign a launch contract with a foreign customer when it formed a partnership with Danish firm GOMSpace in 2017.
In July, the company introduced Zhuque-2, a two-stage methane- and liquid oxygen-powered rocket and said it aims to complete ground testing by 2019 and launch in 2020. In April, LandSpace raised a RMB200 million (US$29 million) series B round led by Shenzhen-listed Xinjiang Goldwind Science & Technology Co., Ltd., a wind generator sets manufacturer.

In July of this year, Chinese launch vehicle startup iSpace closed a funding round with Matrix Partners China to bring the total amount raised to $90.6 million over the past year. In a statement, the startup said that the new financing will be used mainly to fund the research and development of launchers and engines, as well as the construction of final assembly bases and staff training.
Founded in 2016, iSpace is develops "high-quality, low-cost, fast-responding" commercial launchers to serve micro-satellite manufacturers, operators, research institutes and universities at home and abroad. The company has two research centers, one in Beijing and one in Xi'an, capital of the northwestern province of Shaanxi, according to a news release from the company.
Maxtrix Partners China is an affiliate of the U.S.-based venture capital fund. In addition to Matrix, Crunchbase states that the following backers have invested in iSpace: Fosun Group, Baidu, Shuairan Investment Management, Didi Chuxing, Citic Juxin, Venture Capital Fund of New England and Shunwei Capital.