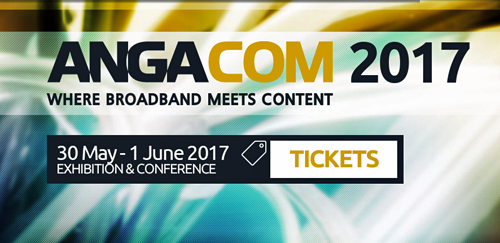 ANGA COM is organized by a subsidiary of the Association of German Cable Operators (ANGA) and has been supported by ZVEI (Satellite & Cable) for many years.
Exhibition and Congress for Broadband, Cable & Satellite has released a preview of the congress agenda that lists a total of 27 expert panels for ANGA COM 2017. Following the slogan 'Where Broadband meets Content,' the key topics equally address the roll-out of broadband networks and the latest developments in the TV markets.
This year, the joint opening discussion with the media congress Medienforum NRW is composed with especially high-level representatives of the broadband and media industry: Dr. Hannes Ametsreiter (CEO, Vodafone Germany), Niek Jan van Damme (Member of the Management Board, Deutsche Telekom), Anke Schäferkordt (CEO, Media Group RTL Deutschland), Carsten Schmidt (CEO, Sky Deutschland), Ronny Verhelst (CEO, Tele Columbus) and Christoph Vilanek (CEO, freenet). The discussion takes place under the headline "Gigabit, 4K and Over the Top: Broadband and Media under Disruption".
Highlight of the international congress track with 14 panels in English is the International Television & Broadband Summit. Speakers are: Yvette Kanouff (Senior Vice President / General Manager Service Provider Business, Cisco), Gerhard Mack (Chief Commercial Operations Officer, Vodafone Germany), Steve McCaffery (President International, ARRIS Group), Mads Arnbjoern Rasmussen (CTO of Huawei Europe, Huawei) and Dr. Dirk Wössner (President, Consumer Business Unit, Rogers Communications).
Media topics of the congress agenda include the keywords AppTV and OTT, HD and UHDTV, DVB-T2, Virtual Reality, Big Data, Personalized TV and copy right. The broadband panels focus on gigabit networks, new cooperation models, DOCSIS 3.1, WiFi, Internet of Things, Smart Home and Smart City.
This year, ANGA COM moves into two new exhibition halls and the modern CongressCenter North. Another new feature is an open air plaza with food trucks. Already, 420 exhibitors have registered.
As in the previous year, the third day is designed as Broadband Theme Day with free access for all visitors upon prior online registration. On this Thursday, the agenda focuses on infrastructure topics and equally addresses cable and fiber network operators. The topics of the eight strategy and technology panels include regulatory issues for the gigabit society, cooperation models for the broadband roll-out, Smart City, Smart Home, Internet of Things and DOCSIS 3.1. Cooperation partners of the theme day are: Bitkom Federal Association for Information Technology, Telecommunications and New Media, BREKO Broadband Association, BUGLAS Association of Fiber Network Operators, VATM Association of Telecommunications and ZVEI.
In 2016, ANGA COM ended with an outstanding result of 450 exhibitors and 18,000 participants from 76 countries. With that, the Exhibition and Congress achieved a 52 percent share of international visitors as well as a visitor increase by 6 percent. ANGA COM thereby provides a broadband and audiovisual media focused market place for network operators, vendors and content providers all over Europe.
The visitor registration for the exhibition and congress is available online at angacom.de.