[Satnews] Cobham SATCOM's AVIATOR 700D satellite communication system has been certified for use on the Dassault Falcon 900A/B and 900C/EX aircraft.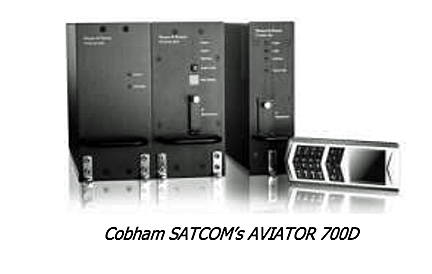 Obtained by Dassault Aviation, the new certification for the AVIATOR 700D will allow operators of Falcon 900s to take their aircraft to the next level of cockpit and cabin connectivity. The Level D-certified AVIATOR 700D is fully CPDLC FANS 1/A compliant, bringing critical safety, navigational and performance data directly into the cockpit. Benefits include reduced pilot workload, increased efficiency with fuel and time savings, increased aircraft longevity, clearer and more accurate communication between the pilot and air traffic controllers and improved overall operational safety. The AVIATOR 700D also enables simultaneous voice and data connectivity as well as facilitating connectivity for numerous pda solutions such as smartphones, tablets and PCs.
The AVIATOR 700D is offered standalone and can be integrated with Dassault's Falcon Elite II (Falcon 900C/EX) and Select II (Falcon 900A/B) avionic suites. The AVIATOR 700D is currently installed on the Falcon 7X, Falcon 900EX EASy and Falcon 2000EX EASy models. Certification of the AVIATOR 700D on the Falcon 2000/2000EX is also underway and scheduled to be completed by the end of the year.
The AVIATOR 700D is part of Cobham SATCOM's portfolio of innovative SwiftBroadband solutions, consisting of the AVIATOR S series, plus the AVIATOR 200, 300, 350 and 700, which support a range of advanced applications including cockpit voice dialing, in-flight calling and internet browsing.