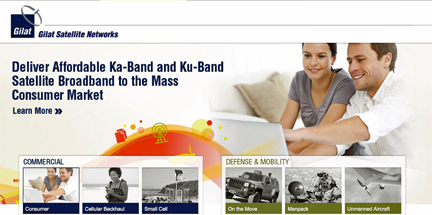 [SatNews] Gilat Satellite Networks Ltd. (NASDAQ, TASE: GILT) plans to present the latest advances in satellite communications at CommuniCast Myanmar 2014, which will be in session from November 18-20 at the Myanmar Event Park, Yangon, Myanmar.

At the event Gilat, intends to highlight its broadband enterprise solutions for banking, retail, cellular backhaul and more. CellEdge, Gilat's unique integrated small-cell-over-satellite solution, will be displayed alongside the Company's SkyEdge II-c Capricorn, the ultra-fast TDMA VSAT, and SatTrooper, the innovative manpack tactical SATCOM terminal.
"Broadband presents unique opportunities for rapid advances in social and economic development in the region—and satellite is extending its reach," said Vinod Kaul, Gilat's General Manager India, who is scheduled to speak about this subject at 11:50 a.m. on November 19th.
"Satellite backhaul is a key enabler to extending mobile network operator's voice and data coverage to isolated and remote communities that are beyond the reach of terrestrial coverage," said Doreet Oren, Gilat's Director Product Marketing, who is scheduled to speak on this topic at 2:40 p.m. that same day.
For additional information regarding Gilat, please visit their infosite at http://www.gilat.com/
To learn more about CommuniCast 2014 Myanmar, please visit http://www.communicastmyanmar.com/