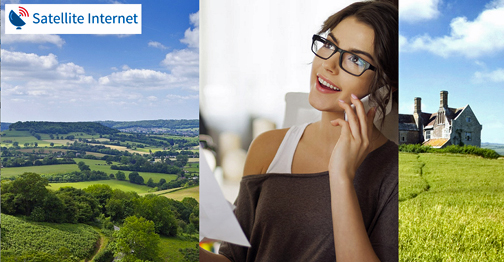 Satellite Internet is participating in a new, regional, Broadband Voucher scheme which offers eligible applicants the option to get connected to a fast and robust Internet service delivered over satellite at no set-up cost to the applicant.

The Connecting Devon and Somerset (CDS) program in the UK aims to help those with Internet speeds of less than 2 Mbps get connected to faster broadband by offering a subsidy to help toward upfront costs. Eligible residents and businesses will receive a voucher code which they can use with their choice of seven approved suppliers, including Satellite Internet which has previously worked with CDS to connect three villages in the region as part of BDUK's Superfast Broadband Phase 3 Market Test Pilot project.

With up to £500 of subsidy available, those choosing Satellite Internet as their provider will have 100 percent of their set-up costs covered—including all necessary equipment, a professional installation of any level of complexity and account activation—and will also receive a free wireless router worth £50.
The CDS Broadband Voucher scheme will run for one year and is open to individual residents, small businesses and communities. Those who wish to apply should visit:
connectingdevonandsomerset.co.uk/cds-broadband-voucher-scheme/

Satellite Internet is the primary country partner for SES Techcom Services, whose parent company, SES, owns and manages the ASTRA fleet of satellites, delivering high-speed satellite broadband services across the UK and Ireland.

Satellite Internet's Business Development Director, David Hennell, said, "The CDS Broadband Voucher program is the most fit for purpose scheme of its kind in the UK. It's already very clear that best value is achieved when subsidy-providing bodies engage directly with the suppliers who actually deliver the service required. CDS has realized this and gone further—it has carefully examined other current subsidy schemes and has picked out the most effective elements from each, coming up with a simple and best-of-breed process for both end-users and approved suppliers alike. This means that dramatically improved connectivity can be delivered quickly, cheaply and easily where it's most needed."