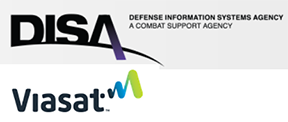 The United States Defense Information Systems Agency (DISA) has officially awarded global communications company, Viasat Inc. (NASDAQ: VSAT), an eight-year, firm-fixed price contract to provide U.S. Government Senior Leader and VIP aircraft with in-flight broadband and connectivity services.
The base year award value is $55.6 million. The period of performance for the base year award is Sept. 1, 2018, through Aug. 31, 2019. The base year and seven 12-month option periods have a total cumulative value of $559.8 million.
Over the past two and a half years, Viasat has provided in-flight broadband and connectivity services to senior leader aircraft under the AMSS IIa contract, demonstrating the company's satellite communication (SATCOM) capabilities. Building on the initial contract phase, and leveraging Viasat's continuous improvement, continuous development model, this new contract enables Viasat to provide even more advanced broadband connectivity service options with expanded coverage and increased data rates, as well as enhanced security, resiliency and flexibility.
Viasat's HAN uses cutting-edge hybrid terminal technology to enable automatic and rapid in-flight network switching across Ku- and Ka-band satellite networks as well as multiple orbital regimes for optimized global roaming connectivity. In addition, the HAN leverages Viasat's latest innovations in layered resilience to mitigate against congestion, intentional and unintentional interference sources and rapidly evolving cyber threats in highly contested environments. The HAN is unique to Viasat, and not offered by any other service provider today.
The Viasat in-flight internet service has been recognized industry-wide for delivering fast, high-quality, reliable in-flight internet service. As noted by Viasat, the service enables an elite connectivity experience with the ability to use the in-flight broadband connection to stream full-motion high-definition video for en-route Command and Control (C2) missions; to maintain two-way communications through HD video conference calling or voice over internet protocol calls; and to access real-time intelligence and other location-based, live-sensor data for critical decision-making and more.
Executive Comment
"We are proud to provide U.S. Government senior leaders with a proven in-flight broadband connectivity experience. Our best-in-class connectivity service with advanced cyber protection for secure air-to-ground communication ensures senior leaders are connected—virtually anywhere they fly," said Ken Peterman, president, Government Systems, Viasat. "This contract validates the value of our Hybrid Adaptive Network (HAN) that's continually improving and embracing emergent satellite network capabilities across multiple bands and multiple networks. The distinguished performance of our HAN architecture is representative of the elite capacity, resilience, security, and speed available on Viasat's global broadband network."