[SatNews] Arianespace's second Soyuz launch at the service of O3b Networks has been approved for liftoff tomorrow from the Spaceport in French Guiana on a flight to complete the basic satellite constellation for this customer's pioneering connectivity service.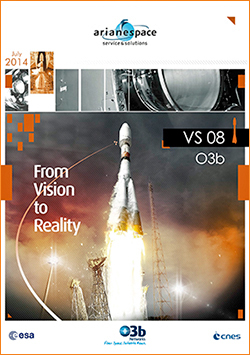 The medium-lift mission will loft four relay spacecraft that are to join an initial four orbited by Arianespace on a Soyuz launch in June 2013. These eight satellites will constitute the network framework to provide fast, flexible and affordable connectivity for O3b Networks customers in emerging markets.
This go-ahead for Flight VS08 was given following the readiness review, a regular milestone before every Arianespace mission, which validated the go-status of Soyuz and its satellite payload, along with the Spaceport's launch site infrastructure and the ground stations that will track the mission. After deployment by Soyuz, the four Thales Alenia Space-produced satellites—each with a liftoff mass of approximately 700kg.—will be located at a medium-orbit altitude of 8,062 km.
The July 10th mission will be the eighth flight by Arianespace's medium-lift Soyuz from the Spaceport, where it was introduced in 2011 to join the company's heavy-lift Ariane 5 and lightweight Vega.
Yesterday, Arianespace's next medium-lift Soyuz now set for launch from French Guiana has completed the integration of its "upper composite," made up of four O3b Networks connectivity satellites, their protective payload fairing and the Fregat upper stage.
This activity was performed at the Spaceport's ZLS launch complex near the town of Sinnamary and began with the upper composite's transfer from the S3B payload preparation facility on a special transporter, and was followed by hoisting to the upper level of a purpose-built mobile gantry, which provides a protected environment for the vertical installation. Final checkout of the Soyuz launcher is now underway, leading up to the Arianespace liftoff planned on Thursday, July 10, at precisely 03:55:56 p.m. local time in French Guiana. This mission is designated Flight VS08 in the company's numbering system, representing the workhorse Soyuz' eighth flight from French Guiana.
The upcoming launch's payload—four Thales Alenia Space-produced satellites that will join O3b Networks' pioneering high-speed connectivity system are to be deployed during a flight lasting 2 hrs., 22 min. Equipped with Ka-band transponders, the satellites will be positioned at a medium-orbit altitude of 8,062km.
Total payload lift performance is estimated at 3,204kg., including a combined mass of approximately 2,800kg. for the four spacecraft, which will create a constellation providing telecommunications and Internet services over Asia, Africa, South America, Australia and the Middle East, combining the global reach of satellite coverage with the speed of a fiber-optic network.
Flight VS08 will be the second Arianespace mission at the service of O3b Networks, following the orbiting of its initial four satellites with Soyuz in June 2013.
Follow Arianespace's launch activity at http://www.arianespace.com/.