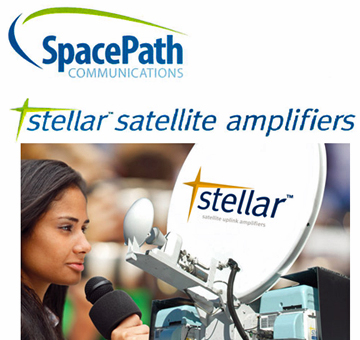 [SatNews] Following a highly successful debut at IBC2014 in Amsterdam, Spacepath Communications and Tango Wave have agreed to collaborate across marketing activities, service support and new product development solutions.

Spacepath Communications ('Spacepath'), the UK company behind the Stellar family of high-power outdoor amplifiers (HPA), has joined with Silicon Valley-based Tango Wave, a US manufacturer of SATCOM power amplifier products, to market a range of new high efficiency SATCOM amplifiers for the global HPA market.

Newton Burnet, Managing Director, Spacepath Communications, said, "With our strong focus on customer service, and as a dedicated European manufacturer of SATCOM high-power amplifiers, this partnership is the ideal fit for our business. Our customers will benefit from Tango Wave's innovative design of advanced high efficiency power amplifiers with best-in-class size, weight and power (SWaP) performance. These products are ideally suited to all mission-critical satellite communication segments, including, digital satellite news-gathering (DSNG), military satellite communications, large teleports, mobile applications and flyaway systems."

Walt Wood, CEO, Tango Wave, said, "The Spacepath team has immense experience in the EMEA satellite arena, and Tango Wave's new high efficiency products augment the Spacepath range of products perfectly by providing customers across the region with fixed and transportable solutions for commercial and military applications. There was a tremendous buzz at this year's IBC about the use of Ka-band for SNG applications, where small, high efficiency, lightweight packages are essential. Our new products have been designed especially for this and other high powered gateway applications."
Please visit http://www.space-path.com for additional information regarding Spacepath Communications and http://www.tango-wave.com for more details regarding Tango Wave.