[SatNews] Following the recent creation of Airbus Defense and Space, the company launched the AuroraGlobal high throughput services for government, maritime and enterprise markets at Satellite 2014 in Washington DC as a response to increased bandwidth demand. This new portfolio of high throughput services—featuring Ku-, X-, and Ka-bands – provides increased throughput, without the need to change antenna systems.
Evert Dudok, Head of Communications, Intelligence & Security at Airbus Defense and Space, announced at Satellite 2014, "AuroraGlobal is now available and is setting new standards for high throughput services to provide the best value on the market. With this offer, Airbus Defense and Space is bringing its customers one step closer to next generation SATCOM, whether it be military or commercial satellites, such as Inmarsat's Global Xpress and Intelsat's Epic NG."
AuroraGlobal can provide enhanced X-band capabilities and performance for civil and military government purposes, dramatically increasing throughput up to four times more than current services using existing terminals, and enabling greater throughput via new smaller terminals, in line with growing operational needs. For instance, recent trials with hardened Skynet satellites at Airbus Defense and Space have proven that a 60-cm X-band terminal can support more than 70Mbps of throughput. Separate tests using the SCOT5 1.5-m naval terminals confirmed that levels of assured service throughput can be achieved at four times the current levels provided to Skynet customers.
In the maritime market, the customers will benefit from the next generation Ku-band VSAT service without the need to replace existing antennas. The new maritime VSAT offering is an all-in-one solution featuring twice the previous data volume allowances and twice the previous data speeds. It comes with unlimited L-band back-up service, as well as the new XChange platform, without having to invest in a new VSAT antenna. Shipping companies can now select this offer and maintain the option to upgrade to future Ku- and Ka-band high throughput services.
In the Enterprise vertical markets, customers will further benefit from the latest technology fully compatible with high throughput satellites following the recent signature of a contract with Newtec. Customers will have access to new network hubs on Airbus Defense and Space's teleports, optimizing frequency bands and providing throughput up to 150Mbps.
As part of the new offer, Airbus Defense and Space will also deliver Global Xpress high-speed broadband services through its worldwide distribution channels in the near future. The strategic agreement signed last December with Inmarsat covers key vertical markets – including the maritime, as well as the government and defense sectors – initially in Europe, and will allow us to provide highly competitive Ka-band services. In due course, Airbus Defense and Space's Global Xpress offering will encompass all service types – packaged services, bandwidth capacity, as well as commercial and military Ka-band.
With the creation of Airbus Defense and Space, the combined SATCOM activities within the Communications, Intelligence & Security business line bring together the number one military SATCOM operator in the world and the leading commercial SATCOM provider for maritime and enterprise customers. AuroraGlobal complements other Airbus Defense and Space services provided at UHF-, L- and C-bands.
Additionally, the company announced at Satellite 2014 that they have entered into a new agreement bridging maritime VSAT services to Intelsat's High Throughput Satellite (HTS) EpicNG platform.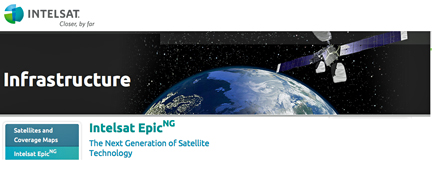 The new agreement will provide global high throughput SATCOM services with secure access to Intelsat's global Ku-band satellite capacity and terrestrially managed network IntelsatOne(sm). As of March 2014, Airbus Defense and Space extend the usage of these new high performance solutions in its services portfolio which is upgradable to the new Intelsat EpicNG platform. This agreement is part of Airbus Defense and Space's newly launched AuroraGlobal, a suite of new high throughput SATCOM services. AuroraGlobal further enriches Airbus Defense and Space's multi-band global network and is available to customers now, bringing them one step closer to next generation SATCOM. For Airbus Defense and Space's maritime customers, EpicNG brings the potential for new services that enable throughput in the range of 25-60Gbps—around 10x that of traditional satellites. Each EpicNG spot beam can support Airbus Defense and Space maritime users with m antennas featuring downlink speeds of up to 290Mbps and uplink speeds of up to 225Mbps.
Intelsat's open- architecture, flexible and backward compatible EpicNG platform, which works seamlessly with the existing Ku-band wide beam fleet, enables customers to achieve higher speeds without changing onboard hardware. When the EpicNG platform becomes available, shipping companies will be able to easily upgrade to Intelsat's HTS technology. Under the new agreement, Airbus Defense and Space will grow its current and future requirements for maritime Ku-band VSAT services with Intelsat. This powerful combination of traditional and HTS satellite capability, fully integrated into Airbus Defense and Space's connectivity agnostic network, will allow shipping companies to benefit from unparalleled service throughput and service flexibility, whether transiting the busiest shipping routes or exploring the most remote ocean regions.

"Our Intelsat agreement is an important part of our new AuroraGlobal offering, which provides the best value next generation SATCOM-enabled solutions using our global multi-band network. This will allow Airbus Defense and Space to deliver the future to its customers starting now," said Evert Dudok, Head of Communications, Intelligence & Security at Airbus Defense and Space.
For further information, please visit the Airbus Defense & Space infosite at http://airbusdefenceandspace.com/
To learn more about Intelsat Epic, please visit http://www.intelsat.com/infrastructure/intelsat-epicng/