Radeus Labs Inc. has added IESS-412 or, more commonly, Intelsat 11 parameter pointing capability to the 8200 antenna control system (ACS).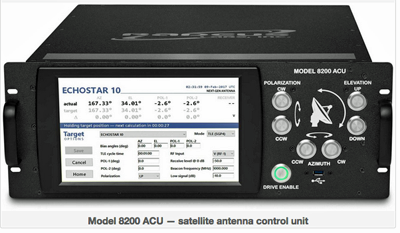 The added pointing mode will allow greater flexibility for customers who use the Intelsat pointing mode and offers multiple methods for refreshing data sets, including an automatic update capability for web facing systems. The 8200 currently auto updates the NORAD two line element set data on a daily basis for targets using that pointing mode. Similarly, the Intelsat pointing mode will auto refresh data sets when the 8200 ACU has web access. Alternatively, the data sets may be updated over the internal LAN when web access is not available. A third option for uploading data sets is to use the USB drive located on the the front panel of the ACU.
Juliet Correnti, Chief Executive Officer and co-owner of Radeus Labs noted that customers continue to push the firm to grow our offering and add innovative twists to tried and true methods. This creates value for customers and simplifies their work in ways that could not have been easily done 10 or 15 years ago."
Robert Gomez, a SATCOM Engineer for Radeus, added that the company has tried to make it easy for customers to maintain current pointing data in their ACUs. By adding ease-of-use features to the 8200, the amount of time required to maintain the unit has been reduced and simplifies the update process for our customers" notes Gomez.