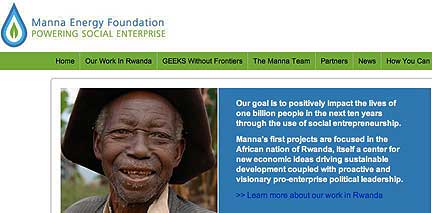 [SatNews] Good news comes from the poorest regions of the world such as Southeast Asia and Central Africa by connecting communities without readily available communication solutions.
TrustComm is proud to announce the recent donation of 11 handheld satellite phones and seven data terminals, plus satellite services to the Geeks Without Frontiers (GWF or "GEEKS") program of the Manna Energy Foundation.
The nonprofit organization's
mission aligns with TrustComm's global charitable mission.
By providing a unified infrastructure platform to the poorest regions of the world such as Southeast Asia and Central Africa, the Manna organization with TrustComm's donation are able to reduce poverty and help unleash human talent and economic development.
 Manna's GEEK's program relentlessly pursue the development, improvement, and scaling of technologies. 
Manna's GEEK's leverage local grassroots movements to deploy those technologies which promote innovation, dignity and enterprise
.

The Manna Energy Foundation and its Geeks Without Frontiers program charity is a US 501 c3 and has the mission of empowering
one billion people to sustainably elevate themselves out of poverty over the next 10 years by leveraging open source software and hardware initiatives unified infrastructure platform for renewable energy, clean water, low powered telecommunications and advanced SMS — mobile and text applications
. GEEKS will roll out a franchised model with local service providers and innovative technology partners and scale this platform across the world for maximum impact.
"We are honored to be a part of GEEK's in achieving their global mission and serve as a technology partner," states
Joe Long
,
TrustComm Board Member
, "
TrustComm will continue to support these types of efforts and  organizations through assisting with satellite Internet connectivity, satellite phones, equipment and group training to connect communities."
"This truly incredible contribution from TrustComm comes at a most opportune time. Their gift will do genuine good and will directly help people on the ground. It's great to see TrustComm step up in this manner.
Their commitment to corporate social responsibility is beyond the call of duty
. We cannot thank them enough for their generosity," said
Chris Stott
,
Chairman of the Manna Energy Foundation.
Manna plans to implement intelligent power distribution methodology (mobile device charging) for the community surrounding the communications deployment. Manna believes this can be an additional revenue center for strengthening the sustainable aspect of the franchise model as well as provide a way for the community to efficiently operate low power mobile devices.
  Manna's GEEKS program also recently began work on an open source 802.11S effort for Google's TIDES Foundation.
Manna seeks to provide application and device courses to indigenous Geeks and Entrepreneurs to enhance their knowledge of new hardware and software applications that can be utilized to drive improved healthcare, education, productivity, and communications awareness. The organization will tap into Indigenous Geeks to encourage innovation, and to identify new opportunities to leverage further GEEKS training and deployment opportunities.
TrustComm is a World-Class satellite communications carrier providing reliable, managed, secure networks, broadband internet, VoIP, video; wireless and terrestrial communication services for the energy, enterprise and government industries, as well as for disaster recovery agencies.